Do you have a jumble of loose photographs?

Most of us have boxes of pictures, photos and old memories. Our photographs hold a special meaning for each of us, and it is our desire to cherish them for as long as we can. For this reason, it is to your advantage to learn ways to organize your photos and the various materials and resources that you can use to both preserve and store these precious memories.
Who do you love?
As you go through the process of organizing your photos, find the photos that you really love & set them aside to frame them. For the others, ruthlessly toss the blurry, red eyed, duplicate & boring photos. After all, do you really need 2 photos of Uncle Ted on his houseboat? For the remaining photos, store them in a keepsake box that you can pull out & look into from time to time.
Remove The Paper Wrappers 
My all time favorite technique for those who are short on time is to do this: As you go through your photos, take your pictures out of their paper cases, toss the negatives and store them into plastic shoe boxes with a lid. You can fit up to 400 photos in one box using this method.

Now I can hear what you are thinking right now. But I need my negatives! Do you feel like you need the negatives? Really? Think about it, if you truly want to reproduce a photo later, I am certain that scanner, yours or someone else's is a quick step away.
If you are looking for a more thorough method that will categorize your photos, here are a few more tips to get this done:
Photo Categories
There are no strict rules or categories for photo organization. You can certainly use your creative freedom when it comes to categorizing your pictures. Here are a few categories that you can use to separate your photos and keep them in order as your photo library expands over time.
-Individuals (son, daughter, parents, etc.)
-Family (immediate, distant relatives, family history)
-Friends (best friend, events with friends, etc.)
-Events (birthdays, vacations, anniversary, parties, etc.)
-Dates (special dates, months, years)
-Locations (old residence, visiting family, vacation)
The possibilities are practically endless
The important thing is that your pictures are placed in groups so that you know exactly where to look when you want to show someone a particular picture.
 If you want more detailed instructions about getting organized, Get My Free Organizing Guidebook here
Yay for Digital Photos!
I now believe that taking digital pictures of memories with your camera is the easiest way to tackle the need to save them in physical form. If you have google photos or icloud set to back-up your phone, anything you shoot will then be saved in a cloud storage system. I like this idea for a few reasons – now your memories will be safe from fires or other natural disasters. Also you can then let go of the actual photo or grade card. If at some point you have the need for the paper, you can print them out on demand with your printer. With all of the editing capabilities inside photo apps, you can usually print a better quality than the original photo.
Photo Storage Materials
There are certain chemicals that can cause damage, wear and tear on your pictures. If you avoid the materials found on certain envelopes and plastics, you will be able to protect your pictures for a long period of time. Here are some basic tips.
Use Kodak Storage Envelopes to store your pictures. These interior of these envelopes are made of polyethylene-coated aluminum foil. Kodak Storage Envelopes can also be sealed using heat. If you would like to choose another type of envelope, make sure that it is made from acid-free, high alpha-cellulose papers. Stay away from envelopes that have a seam in the center or envelopes that use vegetable or animal-based glues for sealing.
If you would like to view and handle your pictures while protecting them, cellulose acetate sleeves are a good option for storing your photos. These are transparent so that you do not have to remove your pictures from the sleeve to enjoy them.
Polyester, triacetate or polypropylene folders can also be used to protect and store your photos. These are similar to manila folders, but not exactly the same. You can categorize your pictures, and store them in folders together. Place interleaves (paper or plastic sheets) in between the photos so that they do not touch each other.
The most well known type of photo storage is a photo album. Unfortunately, not all photo albums are created equally, and some albums won't serve the purpose of long term picture storage. Invest in a high quality photo album that is made of materials that are meant to preserve aged documents or photographs. You can find them at archival dealers or suppliers.
Photo Storage Resources
I recently helped a client organize her photos into categories and then had them all scanned and saved online. Over 5000 photos were saved onto only two discs. She can now play her photos in rotation on her television and also send them to any of her friends from her private online webpage. Her photos are now preserved forever and always safe from the loss of a fire or burglary because they are being saved on an offsite server. The company I used for this job is Scan Digital and they have a very friendly and knowledgeable customer service center. They also take the time to color correct and repair damaged photos before they scan and save them. They could become your solution to preserving your family memories for generations to come!
Proper photo storage is more than simply placing pictures in a photo album. Using the proper materials can help preserve your photos for years to come, and you can share the memories for generations.
Proper photo storage is more than simply placing pictures in a photo album. Using the proper materials can help preserve your photos for years to come, and you can share the memories for generations.
If you prefer to use a photo album to store your photos, be sure that the album is composed the right materials. Here are some of the safe materials that you can use to store your photos, and what types of plastic are optimal for preserving your most precious photographs.
There are only select types of plastic that work best when handling and storing pictures. These photo-safe plastics are Polypropylene, Mylar, Polyester, Polyethylene, Cellulose Triacetate and Tyvek. These types of plastic are more ductile than others and will protect your photos better than other types of plastic. There are also acid free tissue papers that you can use to store photos on top of each other in boxes.
Sterilite plastic shoeboxes are a great photo-organizing tool. You can store up to 500 4×6 inch photos in these boxes, vertically, and place the lid over them. Sterilite lids are designed so that you can easily stack several of the boxes on top of one another.
Plastic is by far one of the safest materials that you can use to store your photos, however, there are a few materials that can be harmful to your pictures. Wood and wood-based products should not be used for photo storage. This includes materials like poor quality paper, hardboard, chipboard, plywood, strawboard and glassines.
Aside from wood-based materials, hygroscopic adhesives and other adhesives that contain impurities such as iron, sulfur, and copper, can also be damaging to you photos. Polyvinyl Chloride (PVC), rubber and rubber cement can also have a poor effect on your pictures while they are in storage.
If you are creating a scrapbook out of your photos, be sure to avoid, animal glue, starch paste, shellac and contact cement. Tapes and mounting materials that are pressure sensitive, as well as porous tip marking pens and acidic inks should also be avoided in order to protect your photos.
The next step to great photo storage is organization. Once you have the right materials, you can sort your photos and store them in whatever way you would like.
If you have a large number of photos of one particular person, you can keep all of that individuals photos in one or two Sterilite plastic shoeboxes. You can place them in chronological order if you would like. I LOVE these handy boxes because, once you remove the paper packaging and possible negatives, they will hold up to 400 4×6 photos inside!
Perhaps you have tons of vacation pictures, or a number of photographed events from your life or your child's life. Sorting by event or location might be appropriate for you. Remember, you have total freedom and flexibility when it comes to organizing your photos.
You can make scrapbooks, keep albums, or store them in special picture folders.
There is no single perfect way to store photos and memories
Decide which organizational method is easiest for you, and get started with sorting your photos. After all, you now have plenty of insider secrets to preserving the quality of your pictures, so go ahead and make use of these tips!
If you want more detailed instructions about getting organized, Get My Free Organizing Guidebook here
Are you ready to feel organized in your home? Get Your 7 Days to an Organized Life System!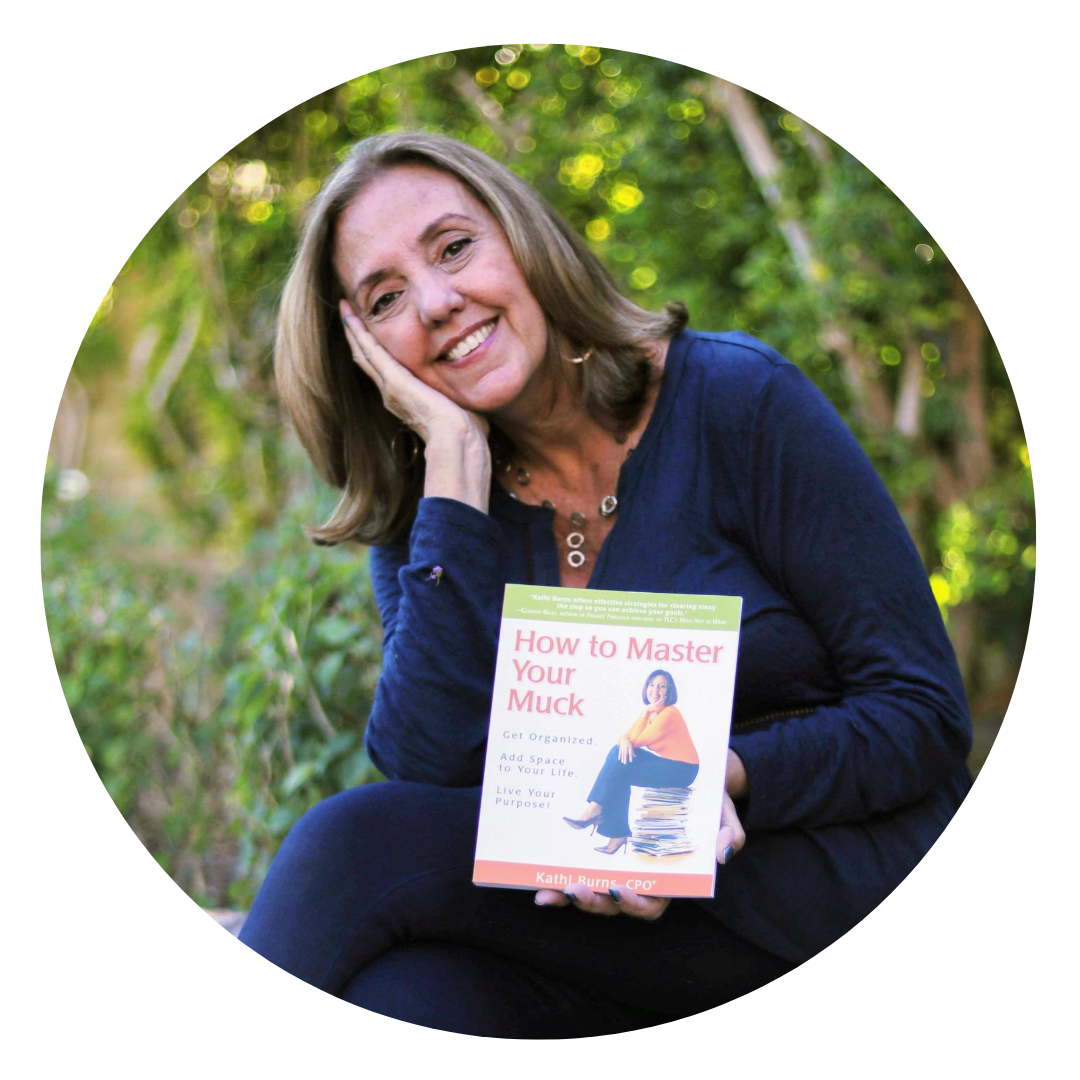 Kathi Burns
Would like to feel more organized? If so, Kathi is here to help you.
Kathi's expert advice has been featured in national media outlets including Oprah Magazine, Martha Stewart Living and Better Homes and Gardens, Entrepreneur Magazine, and more.
As the author of 2 books, Kathi has also developed several online courses to help clients get better organized and energized in all areas of their home, life, and business.