Are you tired of losing money every week because of your disorganized habits?
You are not alone! Did you know that according to a study by Forbes, being disorganized is like having a slow leak that can cost up to hundreds or thousands of dollars every year?
Having your space, papers and desk in disorder costs you both time and money, which are inextricably intertwined.
Plus, the cost of illness from the stress of being disorganized can compound any financial loss.
Being disorganized is the worst way to start the day, and has ramifications down the line beyond spending time looking for your keys.
If you're so disorganized that you can't find your stuff, you'll end up buying duplicates and triplicates of the same item, whether it's kitchen tools, clothing, sports gear … the list is endless. Anything you can't find, you'll pay to replace.
When it comes to food, if you don't understand what you already have and what you actually need, you'll end up buying too much of the same thing (which will eventually expire) or taking additional trips to the market if you've forgotten something.
When credit card bills, parking tickets, library books and other things you owe get lost in the great void of your desk or kitchen table, you'll end up paying more in late fees and reconnections—and receiving absolutely nothing of value for the additional money you've shelled out.
You can also literally leave money on the table if you've misplaced cash, checks or gift cards. 90% of the clients I have organized have found money in one form or another. Even the ones who say to me "you wil never find money here" – we do!
Creating systems to protect your money by changing your habits is anything but a waste of time. This is a very high return on investment … it's going to free energy and that's a whole other thing. You're going to feel not weighed down but energized by your habits.
And you'll pour that energy into very productive activities, both professionally and personally. Everybody benefits. Every part of your life benefits. So invest the time, especially right now when you have the time and are possibly mandated to stay at home.
Think about how many thousands of dollars a year that's going to save you in giving you access to what you use and love, preventing you from buying things that you already own, prevent you from buying things that you're never ever going to use, and controlling the impulse shopping.
Millions of dollars of gift certificates go unclaimed each year because people do not know where they placed them. How many do you have sitting around your house?
I have been a professional organizer for almost two decades and during that time have organized over a thousand homes and companies. Many of my clients have home-based offices, while others are large corporations such as HP and Intuit.
What I have discovered is that no matter how large or small your home is, your clutter could be sabotaging your finances.
If you would like to learn how to stop being disorganized, have those hundreds if not thousands of stolen dollars back in your life, and the feeling of overwhelm removed, then I have created a solution for you.
This solution is my Financial Organizing Masterclass.
This class was designed to help you in the comfort of your own home and is delivered in two parts. Because it is online, it also allows you to stop and take action with any of the tactics I recommend. After you have taken action and are ready to continue, you can keep going and continue making progress.
The truth is that since I know you care about your bottom line especially right now in these uncertain times,  I really value your opinion, and want to know what you think of this course.
This is why I am offering a free half hour virtual consulting session for anyone who purchases this training before July 30th.
So click the button below, and see how I can help you save hundreds if not thousands of dollars today!
Remember, clutter happens and money disappears when there aren't an effective systems in place.
Click the button and take this opportunity of the stay at home mandate to create a new approach to conserving and handling your finances.
Use this downtime to implement systems to stop the money that is slowly leaking out of your life.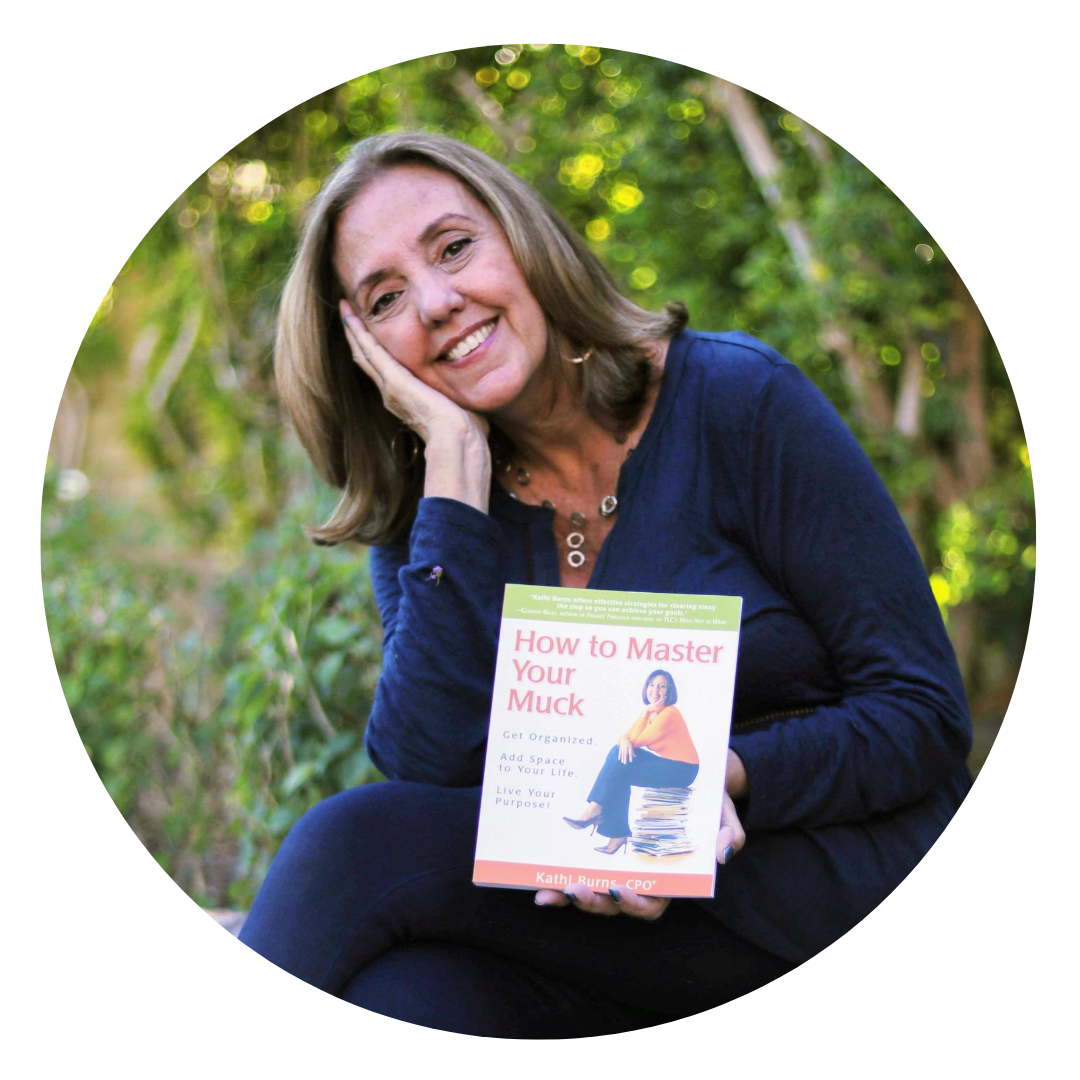 Kathi Burns
Would like to feel more organized? If so, Kathi is here to help you.
Kathi's expert advice has been featured in national media outlets including Oprah Magazine, Martha Stewart Living and Better Homes and Gardens, Entrepreneur Magazine, and more.
As the author of 2 books, Kathi has also developed several online courses to help clients get better organized and energized in all areas of their home, life, and business.