There is a time and a season for everything
As the seasons change, it is time to follow suit and make changes within our life.
For starters, fall is the perfect time to demuck your house. When you are in rhythm with mother earth, you are also in rhythm with yourself. SO – do what she does and begin to let loose of the dead weight within your home.
Doing this will help you prepare for the upcoming holiday season and save you massive amounts of time and stress later when activities and commitments accelerate.
Along with clearing your clutter, it is probably time to shift from summer clothing into winter clothing. So here are a few tips to make this process easier.
Storing seasonal clothing isn't as simple as tossing everything in a cardboard box and putting it in the attic. This tactic will definitely shorten its life.
Start with taking all seasonal apparel out of your closet. As you do this make 3 piles – keep, donate, mend or alter.
Once you have sorted and you are ready to stow your keepers, make sure to clean them before storing then away until next year. Stains and dirt will settle into your fabric when they are resting in storage so make sure they are clean and tidy.
Storing Your Off-Season Clothes
There are several rules of thought about how to store your off-season clothes and it really depends on how much space you have to work with.
If you have a spare closet, this is an ideal place to stow your off season items. If you have hanging space, put your best times into canvas zip up bags and hang them with a piece of cedar inside. For the foldable, you can put them into another canvas bag or two and stow them on the top shelf of the closet.
If you do not have the luxury of an extra closet, you might want to use a large under the bed bin. I used one for years for my off season clothes and really appreciated finding a giant one with wheels and a lid that opened on both ends of the container.
There are many methods for keeping fabrics fresh.
Cedar is one of my favorite options, because it provides a natural scent that also helps keep away bugs (although cedar wood shouldn't contact clothing directly)
If you have been using cedar balls or planks for years and they seem tired, you can refresh them by lightly sanding them with a piece of sand paper and the smell will come right back! 
However you decide to store your clothing, you might also want to drop in a few dryer sheets to keep things smelling fresh. 
Find Bins That Work For Your Space
Once you have chosen the perfect bins that work for your space, you can reuse them year after year. 
I recently had an aha moment – for years I labelled my bins spring / summer. Duh …  now I label them 'off season' so that they are accurate for each switch of the seasons. 
Here's a few tips:
Before you buy new storage containers or bags, measure the space where they will live and make note of obstructions. If you can, choose stackable bins to capitalize on your vertical space.
Say no to cardboard packaging. Your clothing needs to breathe. Plastic bags from the dry cleaner and cardboard packaging—keep your clothes trapped in them, and you'll risk mildew, insects, and yellowing. Even though I still use plastic bins myself, the best storage container for your seasonal clothing is made of either linen or cotton.
Store in a dark, cool, dry spot. That means the basement and attic are to be avoided as both areas tend to be humid and musty.
One Last Thing!
Do not pass go – do not delay taking your giveaway items AWAY! Take all of your donations to your car as soon as you are finished purging Neglecting to finish your donation project will simply create another project for yourself to tackle later.  
Have fun switching into fall and pulling out your favorite booties!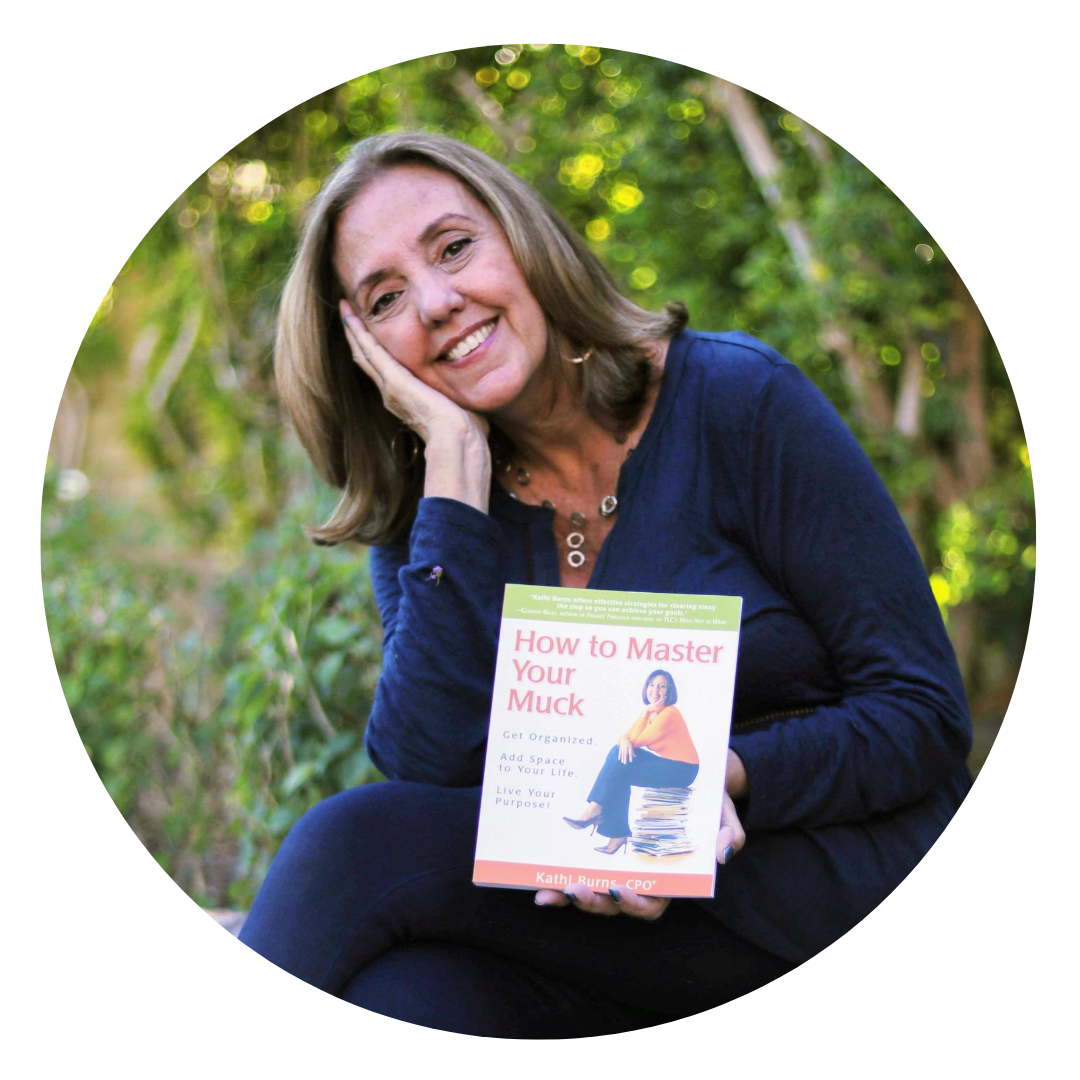 Kathi Burns
Would like to feel more organized? If so, Kathi is here to help you.
Kathi's expert advice has been featured in national media outlets including Oprah Magazine, Martha Stewart Living and Better Homes and Gardens, Entrepreneur Magazine, and more.
As the author of 2 books, Kathi has also developed several online courses to help clients get better organized and energized in all areas of their home, life, and business.