I had the good fortune of being interviewed on the Martha Stewart Living Show a few years back about the best practices for creating a well-organized kitchen and pantry and I thought I would give you some of the tidbits I shared on her radio show.
The 3 Best Practices To Easily Maintain Order In Your Kitchen
Create zones to keep your supplies and tools within reach for each type of process you use to create meals
Clean as you go – don't let dirty dishes or piles of any type, especially papers stack up
Be diligent and keep a constant eye on the amount of tools you own and once a quarter, eliminate the tools you never use, i.e. melon baller, lemon grater, cherry-pitter etc…
Use These 5 Tips To Keep Your Kitchen Organized
1. Keep all papers off of the kitchen counter. If you do bills in the kitchen, designate a drawer to hold the bills in between payments. Keep stamps, envelops, and pens within the same space. If you don't have an extra drawer, create a vertical storage space that will live at the far end of a counter against a wall.
2. Keep all papers and materials within one container. Stepped vertical file holders or stepped baskets work well. Only use tools that require minimal counter space and please do keep everything vertical and out of piles on the countertop!
3. Wipe down and clean out one drawer or shelf at a time at periods when they are the most empty. Cleaning a little at a time makes it less of a chore.
4. Determine where to store items based on how frequently you use them. For instance, if you only use your crockpot during the winter months, store it away from your main cabinets. It might even make sense to store it on the garage or somewhere outside of the kitchen area.
5. Keep the items that you use on a weekly basis in easy to access cabinets front and center, not high up or in the back out of reach. If you use one appliance every day like a small food processor, it might deserve to live on your counter right beside the stash of knives and cutting boards
What are the most effective zones you can create within your kitchen?
Prep Zone = This area will include your knife collection, poultry shears, cutting boards and other prep containers including measuring spoons and cups and mixing bowls. This is also where your Tupperware, baggies and paper wraps should live.

Cook Zone = This zone is located on and around the stove and oven. Store all cooking utensils within arms reach of this zone. A ceramic jar takes up a small amount of space and keeps your spoons, spatulas and whisks close at hand. You will also need to store your baking racks, pots and pans and pot holders within this zone.
Bake Zone = If you love to bake, you might find it handy to store your flour, sugar, baking powder, a set of measuring cups and spoons, your favorite mixing bowl, etc. together in one convenient spot. Right below these items will be the cabinet with the cookie trays, baking sheets etc.
Serving Zone = Everything you need to set the table including plates, bowls, platters, flat wear, napkins, trivets, cups and stem wear and the whole shebang! It might even make great sense to keep your much loved and frequently used condiments here: salt and pepper, hot sauce, liquid aminos? Whatever your family uses with most meals.

Clean Zone = This is obviously by the sink and hopefully the dishwasher too. Keep your soaps, towels, scrub brushes, drying rack all in this area. A pretty ceramic flower pot will keep your scrub brushes upright and the hole in the bottom will keep them drained and free of muck and slime.
Waste Zone = This area is getting more complicated as we endeavor to recycle as much as possible. You will want an area large enough to hold your trashcan, recycle bin and possible even a compost container. The best location will be close to the cleaning and prep zone.

Storage Zone = If you are lucky, you have walk-in pantry, if not you still need to create a zone to keep all of your excess dry and canned goods.
A Bonus Zone = If you have kids, another great zone to create will encompass breakfast and lunch. Use lower cabinets to hold breakfast bowls, cups with lids, cereals and possibly even the peanut butter and jelly. The ideal location 6twill be close to the prep zone so it will be easy to make sandwiches and bag up your lunch items in a snap!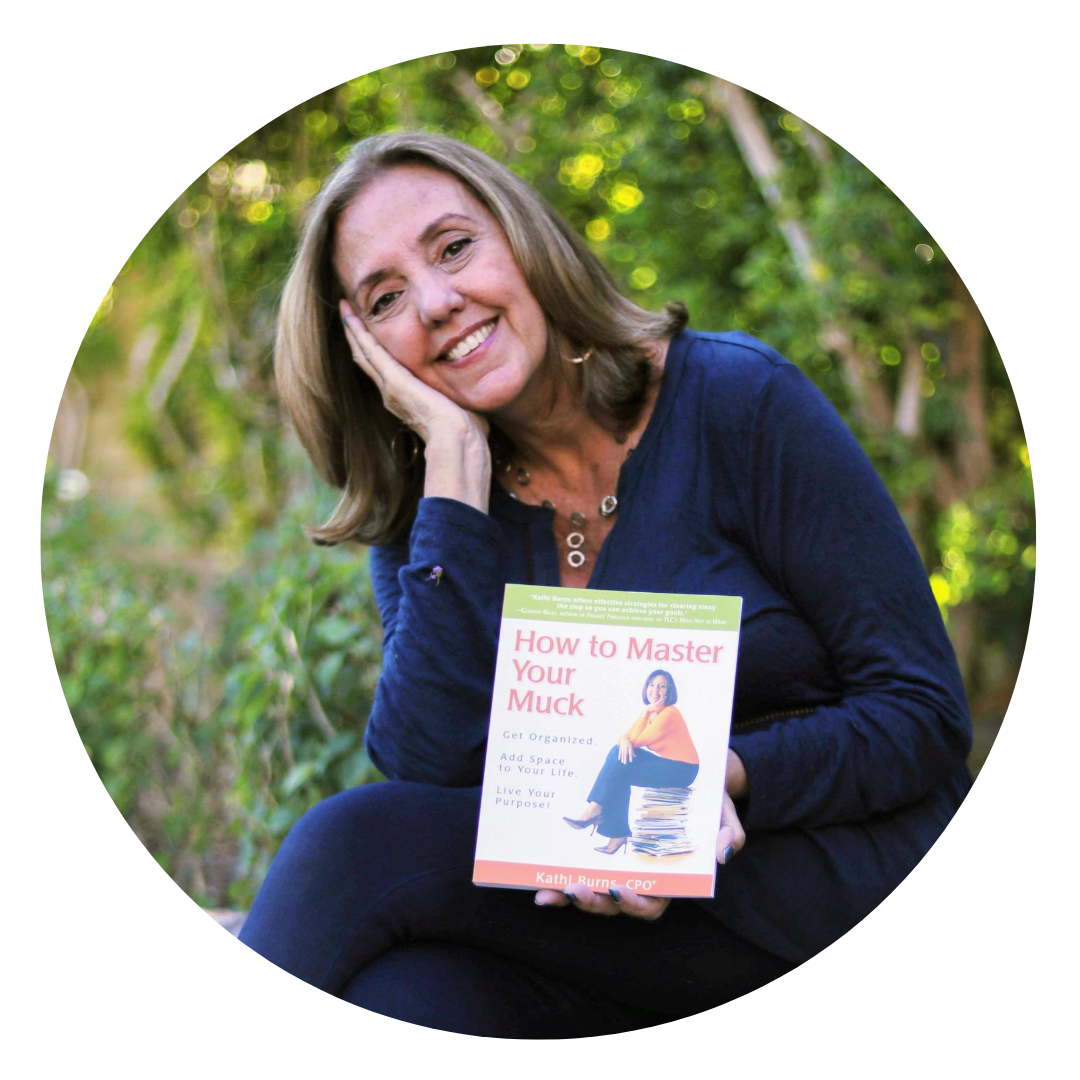 Kathi Burns
Would like to feel more organized? If so, Kathi is here to help you.
Kathi's expert advice has been featured in national media outlets including Oprah Magazine, Martha Stewart Living and Better Homes and Gardens, Entrepreneur Magazine, and more.
As the author of 2 books, Kathi has also developed several online courses to help clients get better organized and energized in all areas of their home, life, and business.