The Do's to Do!
1. Do invest in a high quality desk, chair and a professional filing cabinet. A pro filing cabinet will have good drawer gliders and will be easy to open and shut. Baskets with lids do not qualify! I know that most are not very pretty but if you look long enough, you will find a file cabinet that is not ugly and one that you will use for years! If you can't afford new office furniture, check thrift and second-hand shops in your area.
2. Do find the quietest place in your house to set up your office. A corner in the den or bedroom may have to suffice if your home does not have an extra room. You can also steal a small closet and make it your own private workspace.
3. Do keep your personal finances and records separate from your business workspace. This will help to qualify you for a home office tax write-off.
4. Do organize all files into vertical folders and label them accordingly. Put all paperwork in the appropriate file at the end of each day.
5. Do keep your desktop clear so you have plenty of room to work without items falling to the floor. A good rule of thumb is to have 60% of your desk clear and open for business.
6. Do open your mail on a daily basis and immediately discard all junk mail and circulars. If recycling is available in your area, consider keeping a basket by your desk that you can empty into the bin on a weekly basis. If possible, the ideal habit is to trash the junk before it enters your home or office.
7. Do shred all client information before discarding. This shows respect for their personal information as well as safeguarding against theft.
8. Do use a computer to track your business expenses, pay bills and manage your budget. Be sure to back up your files in the cloud or on a hard disk at regular intervals. Change your password frequently.
9. Do keep all of your schedule information in one place whether it is on online calendar or a written calendar. This is an invaluable habit no master what kind of business you have. Whatever type of scheduling / calendar system you choose – use one and only one and create divisions on your calendar for business and personal events.
10. Do consider hiring someone to help with your home cleaning tasks. This will allow you to concentrate on your business without getting side-tracked by household tasks. I delayed spending the money on this for years and now will never give up my house cleaning service! It saves me time, frustration and allows me to make more money, way more than the money I spend on cleaning.
11. Do keep a consistent schedule. Start working at a set time every day and try to keep yourself from working too many hours – set a stop time as well. This will help you avoid burn out.
12. Do get dressed for work before you begin working. Your entire frame of mind will change when you get dressed and it will be much easier to switch into a working frame of mind. It is not necessary to dress as formally as you would when going into the office or heading out to a meeting, but the power of putting on clothes other than your lounge-around-the-house uniform draws the line between working and not working.
If you keep these tips in mind, you will begin to form better work habits and your home office will be a productive investment.
The Dont's When Working From Home
1. Don't let your workspace become a 'catch all' for junk or non-work related items. Keep your desktop clutter free, and make family members do the same. When you find items that don't belong on your workspace, place them
2. Don't allow yourself to become distracted by television or computer games during working hours. Turn off email notifications and the tv. Set a schedule and stick to it.
3. Don't answer the phone every time it rings while you are working. Screen each call; this will allow you to only answer the ones that are really important. You can chat with friends after your work is done for the day.
4. Don't eat messy foods at or place uncovered drinks on your desk – this can quickly become a bad habit and puts your computer and files at risk in the event of a spill. Take time to move around and eat away from your desk. This will make you more alert and ready to tackle projects.
5. Don't neglect to use a power strip with a surge protector. This keeps your computer and other electronics safe in case of a storm or other electrical failure.
6. Don't let your inbox pile up. This increases the likelihood of becoming overwhelmed, something being overlooked and a deadline being missed. Once your inbox has less than 25 emails inside, it only takes few minutes each day to stay on top of things.
7. Don't forget to get enough exercise. Take a break from your desk several times a day and rest your eyes and back by doing a few quick stretches. Keep a light work saved on your desktop as a reminder to do it and a mat rolled up within easy reach so you can exercise without leaving the 'office'.
If you keep these tips in mind, you will soon form good work habits and your home office will become a more productive investment.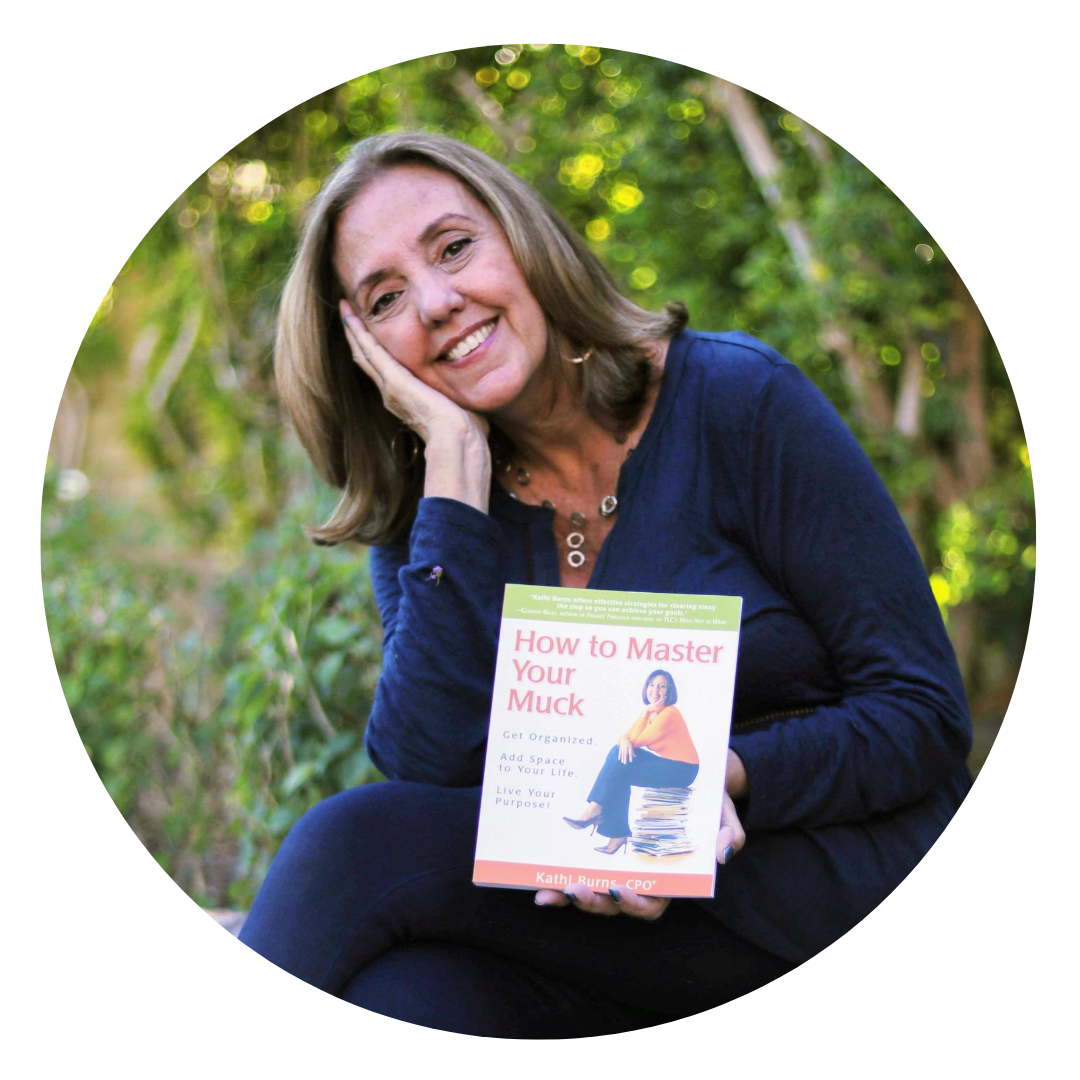 Kathi Burns
Would like to feel more organized? If so, Kathi is here to help you.
Kathi's expert advice has been featured in national media outlets including Oprah Magazine, Martha Stewart Living and Better Homes and Gardens, Entrepreneur Magazine, and more.
As the author of 2 books, Kathi has also developed several online courses to help clients get better organized and energized in all areas of their home, life, and business.