As the holidays approach, you might find yourself wishing for more hours in the day. Implement a few of these addSpace To Your Life! organizing tactics into your holiday routine and you might be able to squeeze a few more hours into December for some YOU time.
Save time and energy by purchasing gifts in bulk
Bulk items work great for: coworkers, hostess gifts, last minute gift exchanges and helpers like your postman and gardener. 
Create a gift theme each year and buy these items in bulk: i.e. wreaths, candles, scent difusers, infused olive oils, photo frames, photo albums etc…
Stock up for all 3 holidays during one shopping trip
a. Things are usually less expensive before the holidays – take advantage of sales and smaller lines.
b. Stock your pantry now with enough snacks, cookies, wine, soft drinks, spur of the moment horderves to carry you through to the New Year's celebration.
Buy gift cards based on the recipient's hobby
Give experiences instead of gifts: massage, pedicure, theatre tickets, kayak tour, etc
Coordinate this year's holiday outfits in advance before the shopping rush begins
Start with a basic black dress and create three distinctive looks with different accessories for each celebration. Red or blue scarf for Christmas/Hanukah, rhinestones for formal affair, metallic shoes for New Years.
Create a 3 ring Holiday Binder
Use divider pages and plastic drop in pockets with these sections:
a. Holiday cards list
b. Travel plans and itineraries
c. Gift Lists carry through each year so you can remember what you bought last year
d. Favorite recipes with ingredient shopping lists
e. Magazine clippings with gift ideas
f. Pocket for gift Receipts and online purchases
g. As you discover time saving tips, add them to your binder so you can remember next year
Stock your car and purse with extra snacks
This will help you avoid fast foods, which save time, money and unwanted calories during your longer than expected  shopping excursions.
Set up a gift packaging/ mail center
Create a space to hold all gifts, wrapping paper, cards, stamps, packing materials etc.
Store gifts in plastic opaque tubs, wrap and label them as they are purchased.
Buy postage stamps and print shipping labels online
Ship USPS using their online app this year. Stop by the post office first to pick up the priority boxes that you might need. Postage rates are less expensive online and once your packages are boxed and ready to ship, you can simply drop them at the counter and skip the line.
Order gifts online for out of town friends and family
Request that your gifts are shipped directly to the recipient to save wrapping and shipping time.
Many online retailers offer free shipping in the weeks prior to Thanksgiving as an incentive to shop in advance.
Stock up on plastic containers
Have extra plastic wrap, baggies and cookie tins in advance for leftovers food from parties.
Plan a cookie exchange with friends
Each person makes 4-6 dozen cookies per recipe and everyone swaps.
This is a great way to spend time with your friends during the holidays and also check a "To Do" off your list!
Make double recipes of entrees before the holiday mayhem begins
OR at least every time you actually cook during the rush during the holidays
You will appreciate a home-cooked meal that can simply be thawed and reheated when you arrive home late.
Create a "First Out" Holiday Bin
Get it ready for quick access next year – Include your holiday organizing binder, wrapping paper/ ribbon, holiday cards, cookie tins, holiday CD's and your favorite decoration to help you get into the holiday spirit before you pull everything else out.
Organize Your Holiday décor and supplies in advance
Buy colorful plastic containers before the holidays so when you pack up after, you can store items into color-coded bins that can be easily identified each year. Plastic also protects items better than cardboard; no glue, less bugs.
Store in holiday items in color-coded plastic containers
Blue = Hanukkah, Green or Red =  Christmas, Orange =  Halloween, Pink =  Easter/Spring
Don't repack your ornaments into their manufacturer boxes
Instead, fill a plastic tub half full with Styrofoam peanuts, place fragile ornaments within and swish around to distribute them evenly inside the tub. Once positioned, add more ornaments and peanuts until filled. This method saves space and energy while repacking. It also ensures that your ornaments will be stored safely between holidays.
When storing holiday decor in a tight space, always group items together by holiday
Make sure to reload the attic/ storage area with Spring (if you decorate with Easter bunnies, leprechauns etc) or Halloween in front, followed by Thanksgiving and then Hanukah/ Christmas in the back.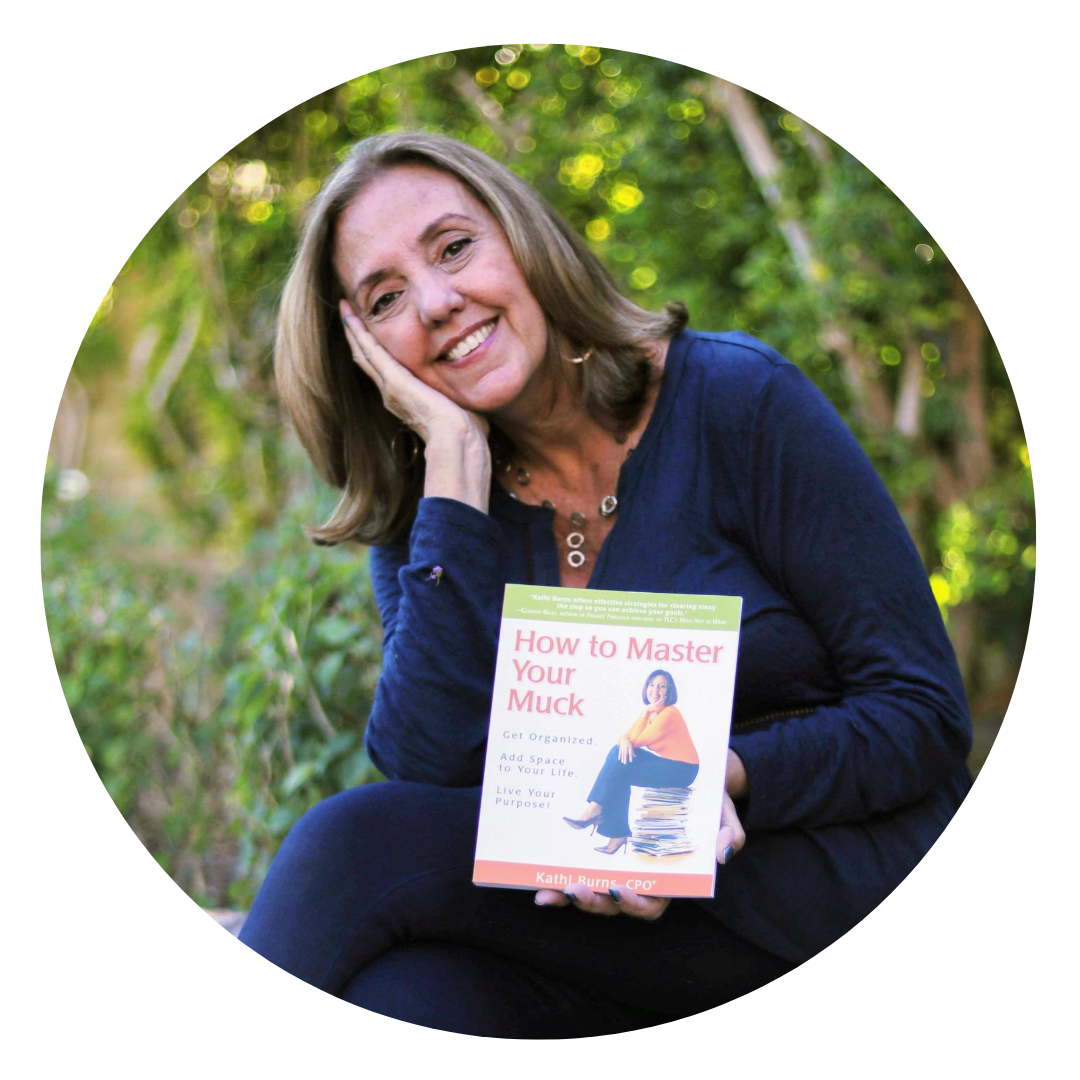 Kathi Burns
Would like to feel more organized? If so, Kathi is here to help you.
Kathi's expert advice has been featured in national media outlets including Oprah Magazine, Martha Stewart Living and Better Homes and Gardens, Entrepreneur Magazine, and more.
As the author of 2 books, Kathi has also developed several online courses to help clients get better organized and energized in all areas of their home, life, and business.