As a Professional Organizer, over the years I have tested and used many pantry organizing products. I have found several that I seem to use over and over again. I decided to post eight of my favorites to help you keep order in your pantry.
Stepper Shelves:
These steps really take the guess work out of wondering what canned goods you have on hand. It is just like in the grocery – how cool!
Lazy Susans:
These spinners work overtime and are incredible for storing and finding condiment bottles. Simply spin and oila', you have found your soy sauce!
Plastic shoe boxes:
For those of you who follow me regularly, you know that I am obsessed with plastic shoe boxes by Sterilite. I use them everywhere when I organize and in the pantry, they really keep your sauce packets and Asian noodles under control. I could write an entire article about everything they help me contain but I need to move on!
Plastic Drawers:
Need an extra drawer, no problem. These little ditties can be found almost everywhere and come in whatever size you might need.
Rectangular Plastic Storage Containers:
I always reccomend rectangular or square containers because they optimize space much better than round or oval. Check out this very small cabinet which sits above a stove. My client really took my advice to heart and found the perfect sized containers to maximize her small amount of kitchen storage space. She lives in a beach house and storage is virtually non-existent in her kitchen. Good job Anne!
Canned Good Racks:
These are great for holding similar items or when you don't have a tall enough space for stepper shelves. For instance, if you buy Cream of Mushroom Soup or El Pato in bulk, this device keeps them all lined up in a row and drops one down when you take one away.
Sterilite Plastic Bins:
Ok, do you have tupperware issues like most of my clients? I know that I did before I came up with this solution. My kitchen did not have enough deep drawers to contain my tuppers, so I made my own with these handy plastic bins. As you probably have already figured out, shelves are not the solution for organizing your Tupperware containers. One bin for bottoms, one bin for lids. It works great! Try it – you will never go back to storing them willy-nilly on shelves again!
Giant Lazy Susans:
This is the grandaddy of all solutions for those deep dark recessed pantry cabinets. Install a giant heavy duty lazy susan and your seemingly unusable storage area will now provide everything with a spin of your fingertips. Yippee! My deep dark pantry stopped swallowing my canned goods!
3 Sure-Fire Solutions to Organize The Canned Goods in Your Pantry
Favorite #1 The Extra Large Lazy Susan
I love this organizer! It not only holds massive amounts of cans, it also organizes the pantry areas that become dark and deep black holes. So, instead of piling cans or boxes in front of one another, simply stack and spin until you find what you need. These organizers are a little pricey ($25 + each) but they are worth their price in gold. I currently have over 35 cans on one and love it so much that I added a second one on the shelf below!
The minus ~ if you do not have a deep dark recessed hole in your pantry, this is not for you, The smaller lazy susan is great for condiment bottles but this behemoth only works in areas 25″ or larger.
Second Runner Up: The Can Stacker Shelf
This organizer makes you feel really efficient and official. Once this shelf is in place within your pantry, all cans are visible and accounted for just like in the grocery. These shelves expand and contract to fit the length of the shelf at hand.
The Minus ~ Make sure to buy the extra large shelves, the others will hold only small spice bottles or micro-sized cans.
Third Place Contender: The Drop-Down Wire Organizer
After using this ditty for a year or so, I determined that it was only useful for items that I use repetitively and buy in mass. For me, this means my favorite Mexican sauce (for everything) El Pato, and my cat food. Items are organized behind each other and it is designed to roll the next one forward after the first one is used.
The Minus ~ It takes up too much shelf space unless you have a large quantity of the same items that you use over and over. As you can see in this photo, this was the beginning of my experience and my cans were not necessarily as organized as I had hoped. The size was a bit wonky so I even ended up storing packaged goods along with the cans. Not the best solution! Once I began using it strictly for my cat food and El Pato collection, it became more user friendly.
If you have come up with any new solutions for kitchen organizing besides these, or have any comments about these tips, please leave a comment below.
If you are a manufacturer of a new organizing product,  contact me to send a sample of your product. I will be happy to test it out and post my comments.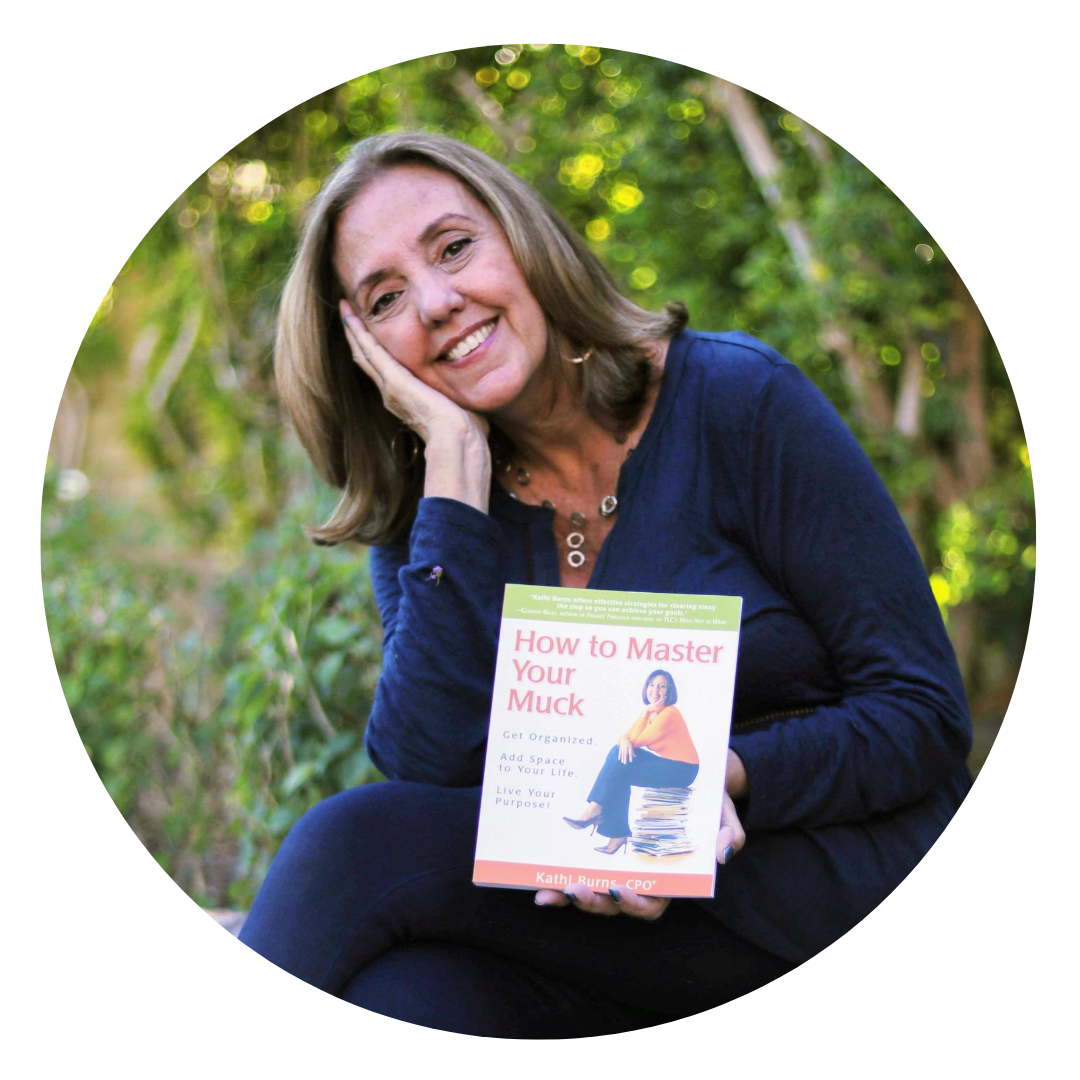 Kathi Burns
Would like to feel more organized? If so, Kathi is here to help you.
Kathi's expert advice has been featured in national media outlets including Oprah Magazine, Martha Stewart Living and Better Homes and Gardens, Entrepreneur Magazine, and more.
As the author of 2 books, Kathi has also developed several online courses to help clients get better organized and energized in all areas of their home, life, and business.