Every year, parents and kids scramble to get organized and buy all the new supplies for the next school year. 
It can be difficult to switch up routines and even create new systems to keep all of the new items organized. These tips will help you (and your family!) keep clutter at bay and ease into your new school year routines. 
With a little pre-planning and newly updated organizing systems put into place, you can help make your children's (and your) back to school transition successful!
Plan the New Calendar
It is important that you create a new schedule that everyone can follow. it helps to have all family members buy into the new schedule. It helps a great deal to have your kids buy into the process by letting them choose the planner or scheduling tool they're excited to use.
Once the family calendar is decided upon and chosen, ask your children to help fill in the blanks with their new activity schedules. 
Next add all family calendars onto this one master calendar.  It helps to keep a visual calendar strategically placed in the family hub area. Using a white board type of calendar will let you make changes on the fly and add in new activities as they pop up.
Once the new, and fluid calendar, is set up and agreed upon, it is time to get your entire home organized for the upcoming busy season.
Create a Drop Zone 
For starters, create a 'drop zone' for backpacks and lunch boxes. The ideal scenario is to have a hook positioned somewhere in the family hub for each backpack. also super helpful is to train your kids to empty their lunch bag after school and then place it on the same hook. This way, you can quickly retrieve the bag and add the new lunch meal inside before they charge out of the house in the morning.
Set Up an InBox 
Create an 'InBox' for your kids to drop their important papers that you need to read or sign. Show then where this area is and make sure to check with them for the first few weeks of school to make sure they remember what to do with the notes that need your permission and more…
Organize Your Closets
If you want to be SUPER organized, set up your kids closets for success! Hang a 5 tier closet organizer inside each closet, one for each school day. On Sunday night, you and your kids can choose their outfits for the week and place them into each section – Monday – Friday.
Containerize
One of the easiest strategies to keep your kids organized (and avoid last minute scrambles to find a missing item) is to create a separate backpack or satchel for each of your child's activities. 
Creating a backpack for soccer and another tote for ballet will ensure that everything your kids need for each activity will be taken with them when they depart for their next expedition. 
It does require using more backpacks but will save you hours of scrambling and will also avoid driving back home to retrieve something that was forgotten. 
Letting your kids choose the tote bags for each activity will help them help you as they will be more enlisted in the new system!
Declutter Regularly
Assess the items in your closets every three months. A quarterly closet purge and assessment will help you avoid closets that are crammed full of clothes that no longer fit or flatter. 
Hang up artwork masterpieces your kids bring home and rotate them regularly. Toss the old pieces and save ONLY the ones that are amazzzzing. Better yet, take a picture of your child holding their masterpiece and save this memory digitally. This absolutely includes the 3D art piece they spent precious hours creating.
Tips for Everyone
Even if you don't have children, many of these tips can be used for other family members, husbands included! A shared family calendar and agreed upon drop zones will avoid schedule and clutter conflicts and serve you for years to come!
Take Care of Yourself
Schedule at least a half hour each day in your calendar, just for you! A more balanced you is a win-win for everyone in your life!
Take a breath. You are doing this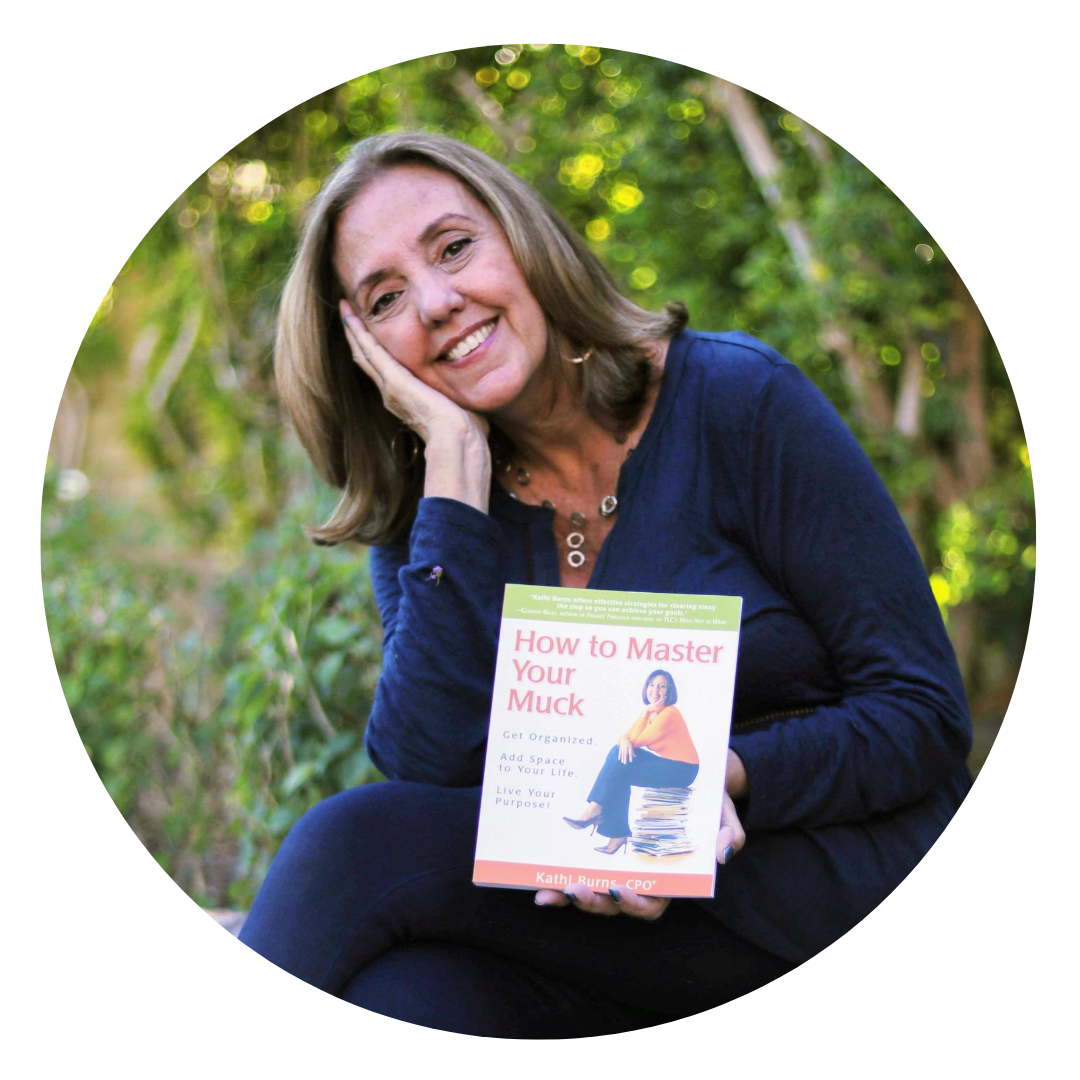 Kathi Burns
Would like to feel more organized? If so, Kathi is here to help you.
Kathi's expert advice has been featured in national media outlets including Oprah Magazine, Martha Stewart Living and Better Homes and Gardens, Entrepreneur Magazine, and more.
As the author of 2 books, Kathi has also developed several online courses to help clients get better organized and energized in all areas of their home, life, and business.