One of my favorite things about creating a fulfilling lifestyle is the rise of virtual employees and small home-based businesses. Home offices are becoming the norm. Even folks who have 'real jobs', so to speak, are now working from home and acknowledging that it pays to stay organized.
In 2013 Forrester Research's US Telecommuting Forecast noted that 34 million Americans worked from home and in 2016 according to Global Workplace Analytics, 3.7 million of these people are employees. 2.8% of the US workforce now work from home at least half the time.
With this surge in home offices and more relaxed work environments, there comes a big need for organization and structure.
Systems for organizing your desk, your files and your office space are critical for ongoing success and productivity. Whether you are a small business or simply have a home-office where you pay bills or shop online, it pays to keep your workspace systematized, organized, free and clear of clutter and unrelated debris.
If you are a small business owner or a home-based virtual employee, I know that one of the biggest challenges is keeping your workspace organized and efficient. Deadlines and projects popping up unexpectedly can cause chaos. If you don't have systems put into place to stay organized, it is hard to work effectively. Random piles, disorganized files, and inbox overwhelm can hamper even the most determined of us to meet deadlines and become successful.
If you feel that you are constantly running behind and can't ever finish your to do lists, you will be well-served to read on. I will show you the 9 quick steps you can take to become organized. These 9 steps are quick to implement and easy to sustain.
They will help you create an efficient and organized home office workspace:
STEP #1 Shift Your Mind
This first step might seem silly but it is super important. It is the step where you will envision the way you want your office to look and feel. This is important because if you know what you want, you can create it. If it is an unknown, it will be more difficult to create the perfect result that resonates and motivates you.
So take a step back, leave your office and shut the door. Sit down somewhere comfortable and close your eyes. Imagine walking back into your office and looking around. What do you see? Piles, paper and clutter? If so, make a note of what makes you feel constricted and uneasy and walk back out again in your mind and shut the door.
Now take a moment to envision a new office that makes you feel energized, efficient and excited. What do you see? What is the setup? Is it the same? What has changed? Has your desk been moved so you can see the tree-lined street or mountains in the background? How does it feel? Calm, zen and clear? Whatever this new and inspiring space looks and feels like to you, make a note of the changes within. This is what you will begin to create for yourself during the next steps. Keep this feeling in your mind so that you can go back to it throughout the clearing and organizing process.
STEP #2 Take Control and Clear Your Desk
This next step involves the process of clearing your desk from all clutter and unrelated debris. In order to increase your productivity, you should have at least 60% of your desk surface clear and open for business. If you can't see the surface of your desk, this is a big warning signal that you are not being as productive as you could be.
This is the time to take a moment to look around at what is lying around and cluttering up the surface. If you are like many of my clients, you probably might discover 2-3 lip glosses, reading glasses, hair ties + numerous half-empty water bottles. What do you see? Get rid of anything that does not belong on your desk or helps you do your job more effectively. You can start by putting every random item into a box. You will decide later where everything should permanently 'live' so to speak.
I agree wholeheartedly with author Francine Jay. In her book The Joy of Less: A Minimalist Guide to Declutter, Organize, and Simplify.
She says it this way – "Surfaces are not for storage. They are for activity and should be kept clear at all times. Put this minimalist principle into practice and you'll be thrilled with the results."
STEP #3 Containerize the Leftovers
If you completed step two, whatever you found lying about your desk that did not help you complete your projects was removed from it's surface. At this point, you hopefully have a few drawers in your desk. If so, this step is easy. Move some of the frequently used items like tape, scissors, pens and glue sticks into the drawer. If you don't have drawers, you will still need to remove the debris from the surface of your desk.
STEP #4 Simplify and Clear All Other Surfaces
Now is the time to look around the rest of your office. What other clutter do you see? Begin clearing the other horizontal surfaces in your office, including the floor. Are there piles of random papers and clothing items? The piles need to be eliminated.
I don't know if you have heard this yet but a pile represents one of three things: indecision, procrastination or avoidance. There has never been a pile that was created that was not the result of one of these factors. Another thing to become aware of is that piles are self-enlarging. Once you have one item placed on top of another, a pile has been birthed and will quickly turn into a very large pile if left to it's own devices! So you need to dig in and get rid of any piles you find cluttering up your office. Again, if you can't figure out where these items should be sorted, place them into a box for future sorting and storing.
STEP #5 Create Systems to Sort and Store
At this point I am sure that you are wondering what to do with all of your random 'stuff'. In order to see what exactly is your random stuff, you will need to sort it into categories. After sorting if you find that you have 3 staplers, 50 pads of post it notes, 5 conference bags full of freebies etc. now is the time to set them aside and get them gone! Donate all extras to a charity of you choice. You might think that you will be able to use it all someday but trust me, these items are easily available and you will have somehow get more in the future with little or no effort. What comes around, goes around and the more you give, the more you get!
Once you have downsized your collection into manageable groupings, it is time to containerize. Find bins, boxes or bags to keep the items organized and quickly access when you need them later. One of the rules to follow to make sure that you stay organized is to have space around each grouping. As I mentioned earlier, life happens and you will get more! With extra space within each storage area, you will have room for new items as they appear in your life, and they will! Speaking of storage areas, the next step is to figure out where all of these boxes, bags and bins will live In order to do that, you need to create zones which is Step #6.
STEP #6 Create Zones to Make Your Office Neat and Tidy
Now that everything is sorted, this is the time to determine where you will store it within your workspace. Think about creating zones within your office. A zone is a designated area for a set grouping of items. For instance, a closet within your office is the perfect place to keep extra office supplies. You might also need a print zone. This area could include your printer, paper and extra ink cartridges.
In order to develop sustainable zones, you need to make sure that you have grouped all like items together and created enough space within each container and within each zone to hold them.
STEP #7 Tackle Your Paper Piles
Now that most items are contained and stored away, it is time to deal with the papers that are not yet a part of your filing system. Creating a proper filing systems is a big step and can't be handled in this short article. If papers are one of your challenges, you can click here to get a full article about a permanent filing system solution. After reviewing hundreds of filing systems, I finally found one that stands the test of time and, most importantly, helps you get rid of papers that are no longer needed.
Freedom Filer is the only system with an exit strategy to eliminate papers and because of that, it is, in my humble opinion the best paper filing system in the world. Also – the great news is that the same techniques that FF uses for papers can also be applied to electronic documents. I have installed almost a thousand FF systems for all types of clients, from large corporations to home-based entrepreneurs. It works for everyone because it is completely customizable and is based on 5 simple categories.
Check it out and you will be impressed! As a disclaimer, I am a Certified Paper Flow Specialist with Freedom Filer because after using other systems I feel it its the best paper filing system in the world! It is the only file system on the market which helps eliminate papers which, in my humble opinion, makes it stand heads above all other systems.
Once your office surfaces are clear and your papers are filed, you will be able to focus on your business at hand. Your productivity will soar as you will not be distracted by things that are not part of your current project.
STEP #8 Enjoy Freedom from Cyberspace
Make sure to turn off all notification beepers on your computer and handle only one project at a time. It has been documented time and time again that even though it is tempting, multi tasking doubles the time it takes to complete a project. Good time management has a big influence on long term success. Tie management principals cannot be covered in a short article and if you feel like you need more training to learn how to manage your time effectively, click here.
STEP #9 Live on Purpose
One of the reasons we have a home office, whether it is as an entrepreneur or work-from-home employee is to enjoy more freedom and satisfaction in life. Once you remove the obstacles that hamper your ability to get things done effectively and quickly, you will have more time to pursue your passion projects. Finding the time to work on projects that make your heart sing will create even more satisfaction and fulfillment in your day to day business at hand. It is a win-win for everyone!
If you have started and stopped and never quite finished getting your home office or work space organized, it will help you to discover what type of of subconscious blocks might be percolating in your head right now. These blocks might keep you from being able to create the vision of the work space that you desire.
So – your action steps are: …
Click here to access your free training – 6 Steps to Organize and Create an Amazing Home Office.
Grab more information about how to easily create an amazing file system and Click here.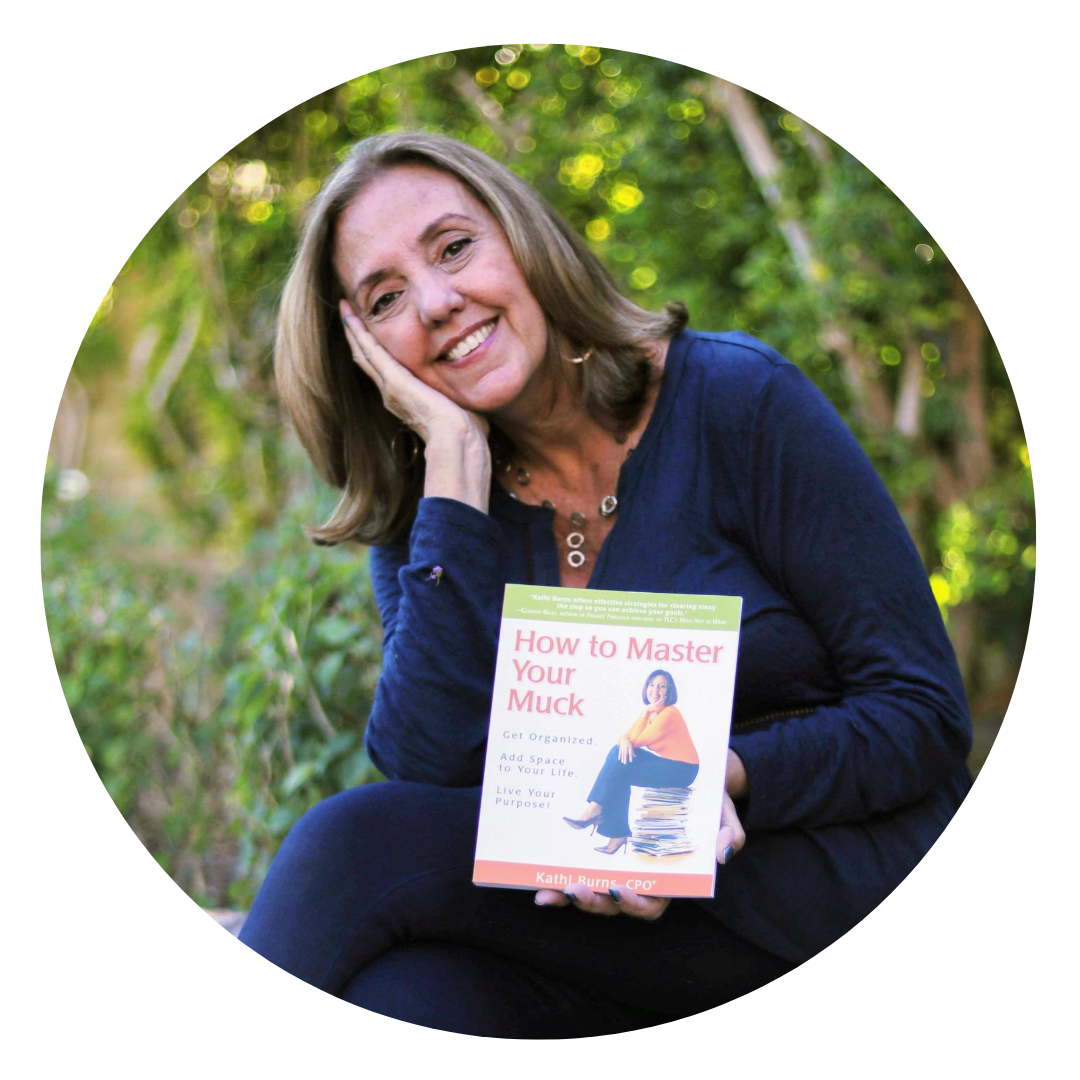 Kathi Burns
Would like to feel more organized? If so, Kathi is here to help you.
Kathi's expert advice has been featured in national media outlets including Oprah Magazine, Martha Stewart Living and Better Homes and Gardens, Entrepreneur Magazine, and more.
As the author of 2 books, Kathi has also developed several online courses to help clients get better organized and energized in all areas of their home, life, and business.