https://vimeo.com/manage/310202196/embedDo you know where your cleaning supplies are? Are they all in one place? Here is a bit of motivation before you start cleaning – AND to help persuade you to get better organized this year  -statistics show that an organized home will save you 40% time cleaning!
Well, even if you are completely organized, there will come a time when you need to clean your home and, besides being organized, having all of your cleaning tools organized and ready to rock will save you massive amounts of time.
Where to Store Your Supplies
My clients frequently complain that they don't have space to store their cleaning supplies. If you, like many of my clients, find yourself short on storage space please resist the temptation to stash your cleaning supplies wherever they will fit.
Instead create a mobile cleaning station with all of your supplies in one bucket. If you have a large home, or a home with multiple levels, you might consider keeping  a separate bucket of cleaning products in each major cleaning area, for instance a complete set for your kitchen & a separate set for each bathroom.
The Bucket Technique
Each bucket should contain sponges, gloves, cleaner sprays & separate specialty items such as toilet bowl cleaner, shower door spray or oven cleaner.
The reason I recommend the one bucket technique is that with everything in one bucket, you can take it from room to room as you clean.This will save you time and money. You won't have to search for the scrubby sponge or buy duplicate supplies. When you run out of a particular supply you will know it and will be able to restock in a flash during your next shopping trip.
Another way to save time and money is to try using an all-in-one product. Many all-in-one products are now organic and non-toxic. There are many products that can be used as whiteners, stain removers and disinfectants.
DIY – Au Naturale
If you like to use all natural cleaners, here are a few DIY recipes:
All purpose cleaner |  1 teaspoon dish soap: 4 cups water
Disinfectant |  1 part rubbing alcohol: 1 part water
Glass cleaner | 1 part vinegar: 1 part water
Tub & Tile cleaner | 1 part vinegar: 1 part dish soap
Degreaser | 1 part vegetable oil: 2 parts baking soda
Once your cleaning supplies are organized and handy, you are ready to tackle the job. Simply pull out your bucket & begin cleaning! Once the job is completed,  make sure to put it back in the cabinet under the sink and you'll be ready to go again.
Whatever you do if you keep a separate bucket of cleaning products in each major cleaning area like your the kitchen and bathroom and you have a spare moment, a quick scrub a dub will be ready and standing by at your fingertips.
Remember
Here is your motivational factoid to keep in mind – according the National Soap & Detergent Association getting rid of clutter would eliminate 40% of the housework in the average home!
Wouldn't it be nice to spend less time cleaning and more time relaxing?
If you agree – click here to grab your free Home Organizing Training System.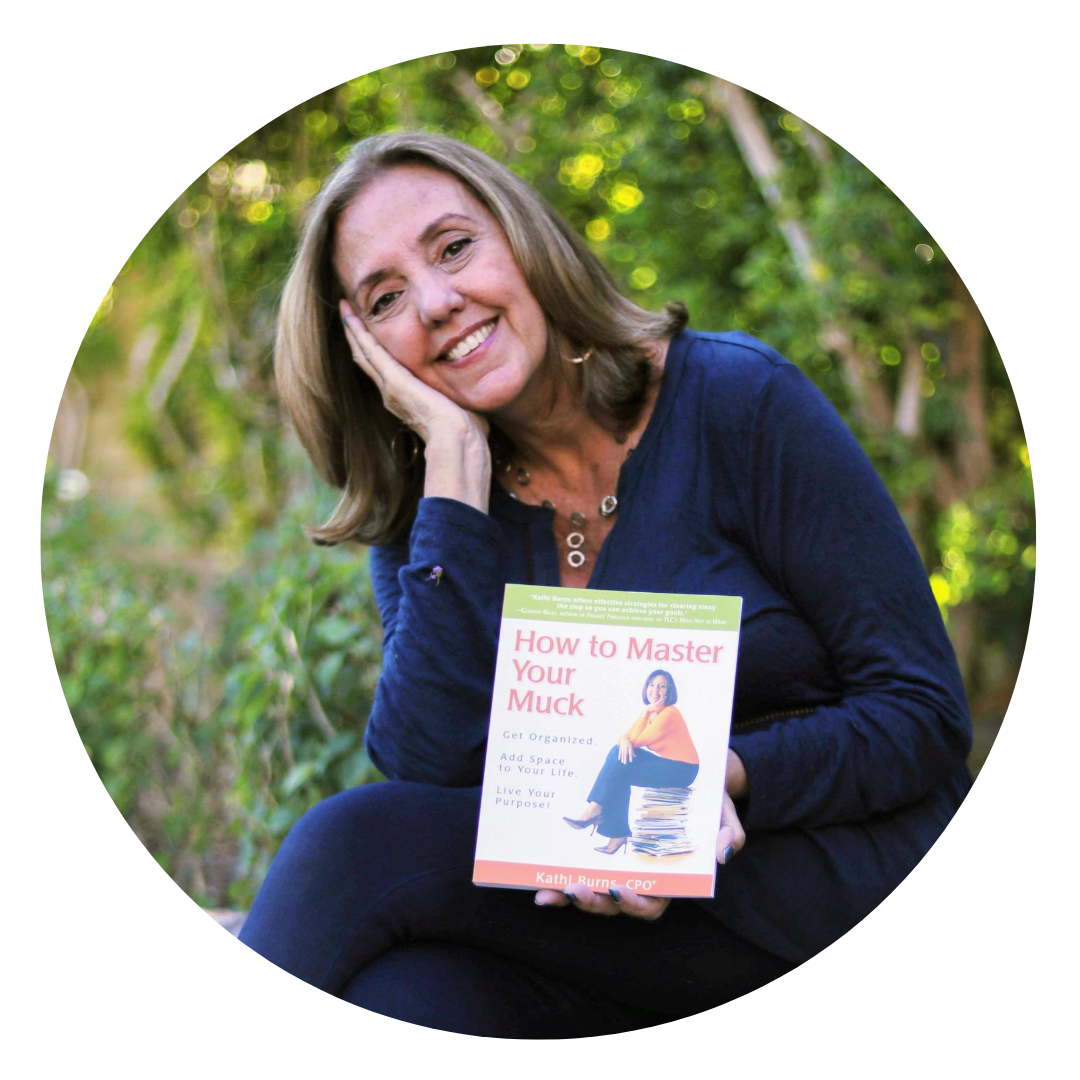 Kathi Burns
Would like to feel more organized? If so, Kathi is here to help you.
Kathi's expert advice has been featured in national media outlets including Oprah Magazine, Martha Stewart Living and Better Homes and Gardens, Entrepreneur Magazine, and more.
As the author of 2 books, Kathi has also developed several online courses to help clients get better organized and energized in all areas of their home, life, and business.