Ever dream about avoiding the last minute shopping dramas at the mall during the holidays? Do you have kids and numerous parties to attend throughout the year and constantly scramble to find  spur of the moment gifts?
If so, you will benefit in a HUGE way by creating an official gift closet!
A gift closet helps you designate a special place to store gifts as you find them throughout the year. Not only will you stay away from the crazies on the loose in December, your gift recipients will receive better and more thoughtful gifts.
You will also be able to easily locate the perfect gift you purchased months in advance of needing it when it comes time to wrap it up and give it away!
One reason I love having a gift closet is that I can go throughout the year and have an excuse to shop! When I find something perfect that someone on my list would love, I buy it and store it.
Doing this saves time and money, time and, in December, I have more time to relax. A gift closet gives you more time to go to all of the parties you want to because – ta da! You will not be at the mall experiencing parking lot nightmares or exhausted from being on your computer late at night trying to order gifts.
A gift closet can be devised in any large closet or a nook within a closet. Converting some space into a dedicated space to hold gifts, cards and wrapping supplies will serve you well!
You can use it to hide gifts and store your gift bags, cards wrapping paper, ribbons and more. 
Over the years I have made several gift closets from my clients. For one client, we installed a  deep wall to wall shelf at waist level in the interior of the closet. Below the shelf we stashed large plastic bins, one for each child, another for adult family members, plus a bonus tub for spur of the moment hostess and spare birthday party kid's gifts.
A tall kitchen trashcan perfectly stowed the wrapping paper rolls. I also installed two long shelves above the new counter to hold bins for bows, ribbon, greeting cards and packing materials.
A large board mounted on the inside of the door was the perfect place to hold invitations and information on upcoming events.
Whatever amount of space you can spare, you will love having your gifts, wrapping and cards all in one place. So go ahead and give yourself a little merry this year and create a space to hold all of your beautiful ribbons and bows!
This is what one of my clients said about a custom project closet I designed:
"Kathi created a "project" closet out of our hall closet. It was useless space filled with umbrellas, coats, presents, etc. all piled on top of each other. I actually had no idea of what exactly was in there. She created an area that I can do all my wrapping, which had previously been stuck under my bed, and store all of my gifts. It also has enough space to store all of my photo albums and scrap booking. This one closet has made such a difference in my daily routine. I have one place that I keep all of my necessities away from the kids. It works great! "
~ Kristen, Bonsall

Follow these tips to create the perfect gift closet:
Create a wrapping station complete with paper, ribbon and bows
Use a tall kitchen trashcan to hold wrapping paper rolls
Use plastic shoe boxes with lids to hold bows and ribbons
Store greeting cards and special occasion lists/dates in this area
Store your gifts in colorful large plastic tubs to keep prying eyes at bay
When your kids are young, equal quantity is sometimes important. Buy one large tub for each child so you can visually track and give equal quantities of gifts
Designate one tub for hostess and spur-of-the moment party gifts
A large corkboard mounted on the inside of the closet door makes a great holding zone for invitations and information on upcoming events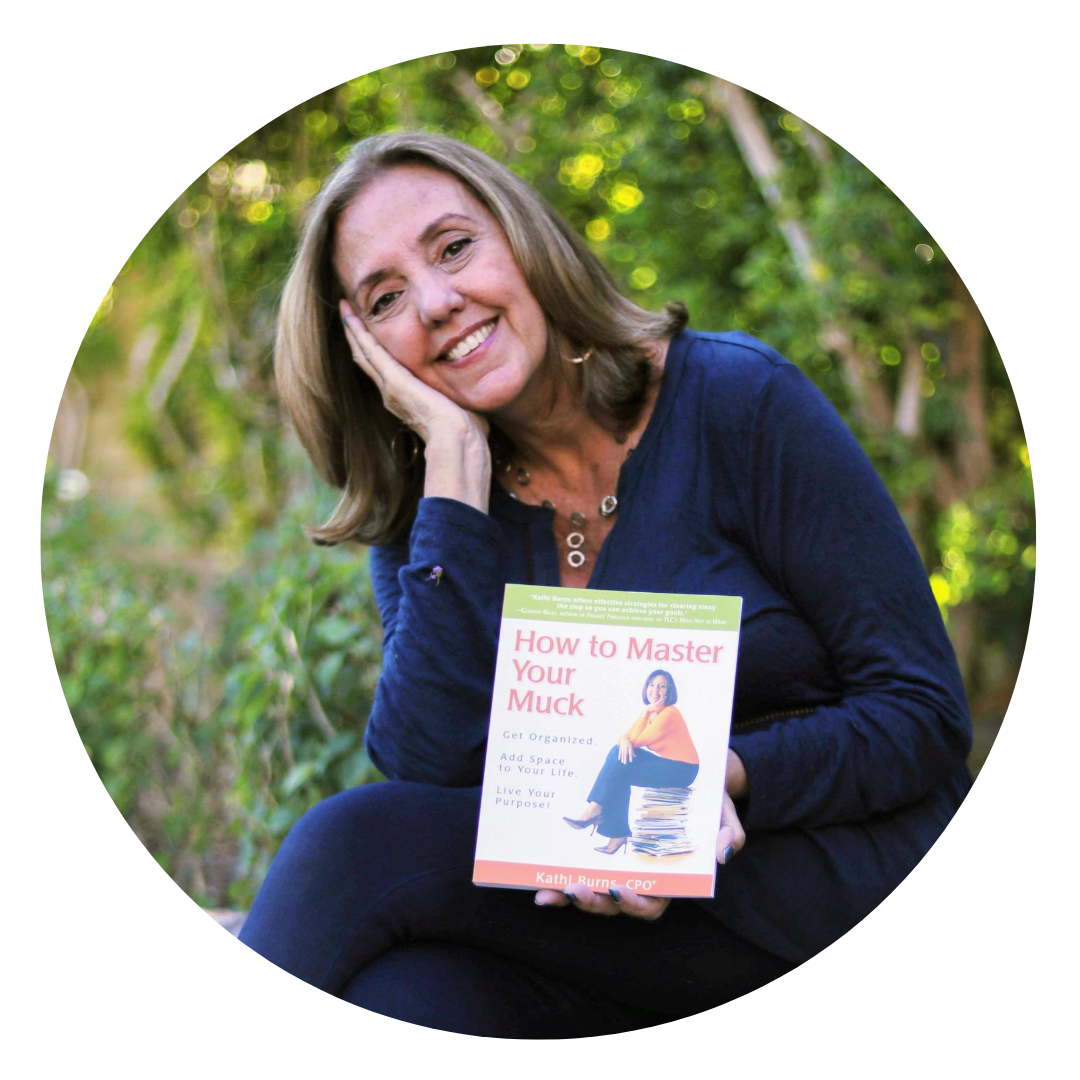 Kathi Burns
Would like to feel more organized? If so, Kathi is here to help you.
Kathi's expert advice has been featured in national media outlets including Oprah Magazine, Martha Stewart Living and Better Homes and Gardens, Entrepreneur Magazine, and more.
As the author of 2 books, Kathi has also developed several online courses to help clients get better organized and energized in all areas of their home, life, and business.