This article reveals the things you absolutely must avoid if you want to  get your life and your home  simplified and organized and achieve true freedom  in your life.
What you might need right now is a splash  of cold water, a splash of of reality when it comes to your relationship with your stuff. The honest truth. Sound good?
Step One:  Forget About The Goal Of Getting Rid Of 10 Items A Week
With an average of 300,000 items in your home, this method will take you hundreds of years (576 years to be exact) to get to the result that you are craving. With that pace, you will spend your best years simply trying to get to that zero space, where everything has a HOME with a YARD around it. 
While you have probably heard of the concept of a 'HOME' for everything, you  might not be aware that if each home does not

have a 'YARD' around it, your system will explode in a matter of weeks, if not days. If you don't have a SOLID PLAN about how and why you are getting rid of things along with a solid plan for where and how you will store the things you keep, you will face an uphill battle that you will never win.
Step Two: Stop Going Cold Turkey
Research shows that if you add a dramatically new strategy into your life and try to take out bad habits 'cold turkey' style, you're more apt to going back the that BAD HABIT with even more vengeance. By slowly incorporating and learning new organization habits, you are much more likely to adopt those habits and stay organized moving forward.

Just like your past new years resolutions that have fallen by the wayside before February, new tactics should be implemented slowly and with great deliberation. You need to know WHY you are changing your habits and HOW you are going to change your lifestyle to create more space in your life. Understanding how and why you got to this cluttered place and space, to begin with, will help you MOVE FORWARD and CLEAR THE UNNECESSARY piece by piece. 
Step Three: Stop Living In The Past
If you find yourself thinking about the good old days and how this or that object played a major part in that memory, it is time to let it go. Think about whether that item still is a useful part of your life RIGHT NOW. If not, say adieu and move it forward to others who will find it useful to their LIFE NOW. 
Getting rid of something that holds fond memories does not erase the memories that it helped to make. Amazing memories will hold solid in your mind with or without that object. OK, I can hear your nay-saying comments SO if you are worried that your memories
won't last, take a picture of you with your beloved item and LET IT GO. Your psyche will thank you and you be able to LIVE MORE FULLY and much easier within the present moment. Be here now. Now be here. Here now be.
Don't get stuck in the past or worry about the future.  The thing that counts the most is right here, right now. That is why it is called the present. It is a present to yourself that you are right here, right now. After all, the present moment is the only sure thing we have in life, so why not FULLY EMBRACE it?
Step Four: Avoid Doing The Same Thing Over And Over Again
Do you find yourself moving clutter from one room to another, over and over again? This habit is known affectionately by professional organizers as the 'two step shuffle' and it never ends. Things move from one area to another and still never find a place to land or live because there is simply not enough room or a designated place for these objects to live. CLUTTER LIVES uncomfortably in one room only to be shuffled into the next.
I am certain that you have heard the definition of insanity, right? Insanity = doing the same thing over and over again and

expecting different results. Creating SUSTAINABLE SYSTEMS are the key to your organizing (and LIFE) success.
Step Five: Work Less, (Yes, Less) Enjoy More Freedom

Organizing should not be a full-time job. In fact, if you constantly work at getting organized, you will burn out quickly and most assuredly stop mid-process before you are done. Getting your life in order is not a full-time endeavor, it is an ongoing process. 
Completing one task or one room per week will provide you with a BALANCE between getting organized and enjoying a life of JOY and FREEDOM. Once your life has a place for everything and everything is in it's place, it is QUICK and EASY (less than 10 minutes a day) for you to keep your life in order.

My clients always have more time for fun and family events when they don't have uncompleted projects weighing them down and clogging up their brain. Before getting organized they complain that they FEEL GUILTY about doing anything spontaneous and fun because they FEEL they should be attending to all of the unfinished projects waiting for them at home. In fact, one of my clients moved into a gorgeous new home on a golf course and didn't play golf for over 16 months because she didn't want to take time away from getting her home in order. It was very sad . . . NOW she plays golf 2-3 times a week and enjoys more free time with her kids! The same SENSE OF FREEDOM will happen for you, once your life and your home is organized.
"So, I am ready to get organized – what do I do next?"
If you are really ready to get started with our exact Home Organizing Made Simple System that features our training program, chock full of professional organizing secrets, step by step lessons, videos, worksheets, then click the link below and we'll show you even more details.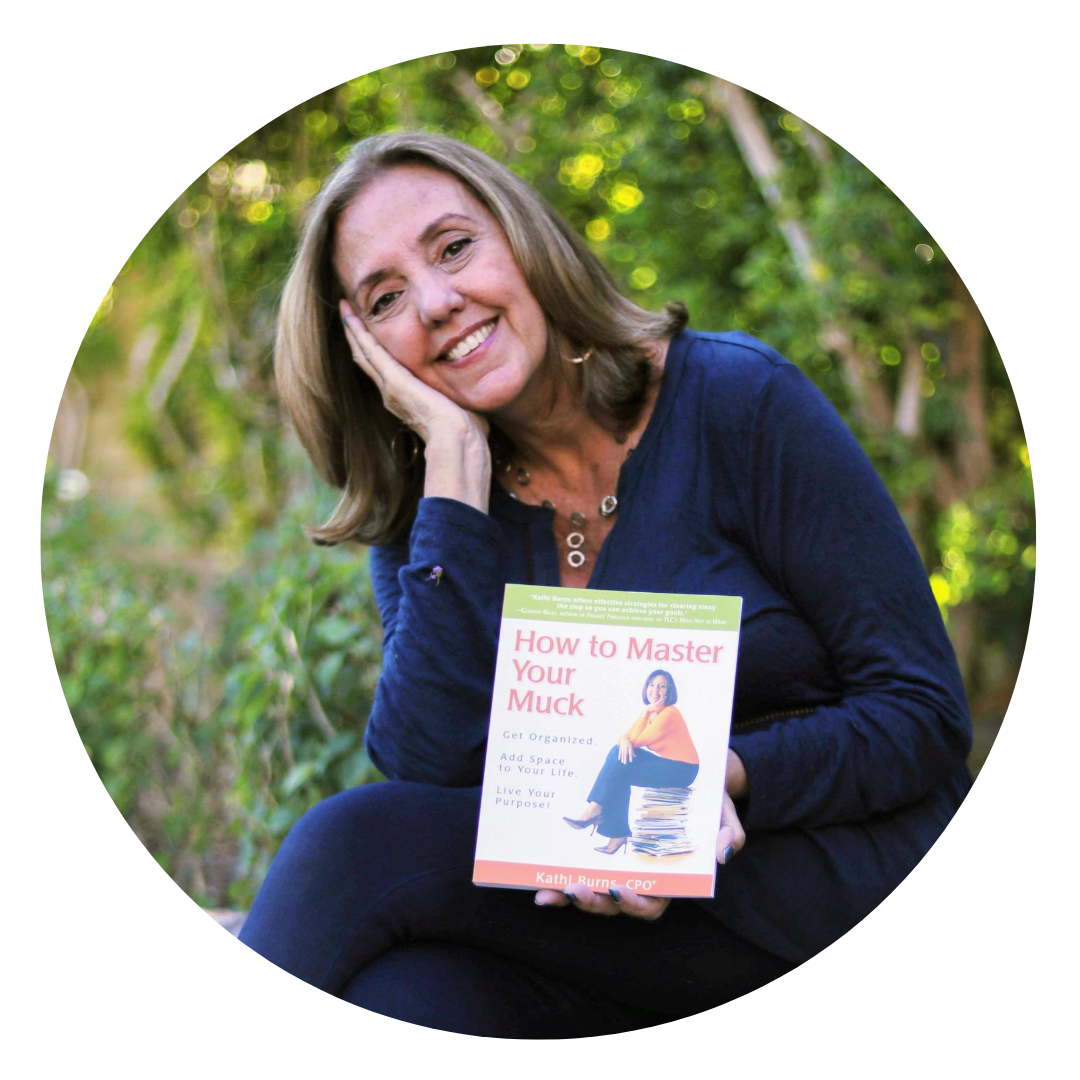 Kathi Burns
Would like to feel more organized? If so, Kathi is here to help you.
Kathi's expert advice has been featured in national media outlets including Oprah Magazine, Martha Stewart Living and Better Homes and Gardens, Entrepreneur Magazine, and more.
As the author of 2 books, Kathi has also developed several online courses to help clients get better organized and energized in all areas of their home, life, and business.