Being a business owner takes a lot of dedication and focus. When you combine running a business with running a home with kids underfoot – it takes even more focus! 
I love the fact that women entrepreneurs are quickly growing in large numbers. In fact nearly 47% of all workers in the US are women and 75% of us work full time. 
I am proud to say that women own over 10 million businesses today! Also, 40% of women in the workforce hold bachelor's degrees, up from 11% in 1970.We are smart, educated and amazing business-minded women. 
A few months back I read that 67% of women who hold corporate jobs are considering branching out and starting their own business. As a serial entrepreneur myself, I never looked back after leaving my corporate gig. 
So the question is – how do we keep a good balance between being a mom and a successful business owner? I put together a few business tips that will help you get perspective and a clearer vision of what your perfect work life might look like.
Have a solid repeatable weekly plan in place
The more time you spend  creating a comprehensive schedule for yourself that includes work time, family time and YOU time, the better you will feel and the more you will accomplish.
While your week to week schedule will always vary (because life happens), if you know that you will spend x amount of hours on work, divided into categories (more on that later), enjoy x # of family meals a week and have one night earmarked for yourself (at least twice a month) you will feel like you have control of your life and actually get more done with less stress.
So let's talk about your work schedule. As a time management consultant, I frequently see clients schedules overtaking their life. As a busy mom, this can lead to overwhelm and business challenges.
Here is a sample of the time management tips I provide In my book How To Master Your Muck. My favorite practice is to use the strategy I developed called Umbrella Your Day™
You can save countless hours by grouping related tasks together into the same time frame; for instance, making all of your follow-up calls together or researching for long, uninterrupted blocks of time.
To umbrella your tasks, you first need to list the recurring tasks that you perform weekly on a sheet of paper. Then you can begin to allocate time in your schedule for these recurring tasks.
Block tasks into similar types of activities; for instance, phone calls, paperwork, outside meetings.
Divide your main job activities into five days:
Planning day to set goals/intentions, line up the week(Friday or Monday is optimum)
Current large project

Appointments, client meetings

Client Follow-up and Research
Administrative, reports & paperwork
Create specific days and chunks of time for related activities. If you need to research client files every week, schedule your research for the same day each week. The benefit of this is that when a client calls for information, you can safely tell them that you will be working on it on a specific day.
You might be thinking at this point, But they want it now! Trust me when I say this, clients care more about the quality of your work and whether you meet your promised delivery date more than they care about instant gratification. Quality work takes time and I know that you are really dedicated to providing quality work in your business.
Take control of your inbox and plan instead of react
A home-based business client candidly admitted to me that once she started checking her emails, she frequently became glued to her inbox for hours. My suggestion was that she check her emails only twice a day, once in the morning just before she picked up her kids from pre-school and once in the afternoon just before they awoke from their nap. By partitioning this task into a tight timeframe, she automatically had to quit in order to begin her next pressing task, which in her case was attending to her children.
When you first begin learning how to control your email habits, it helps to use tasks that need to be performed at predetermined timesto define the parameters around when you will check your inbox. Everyone should aspire to check their emails only two times a day, three times max, and always during predetermined times.
Here's what to do: Start your morning by not checking your emails or voicemails. Instead, use the first hour of your day to plan that day. Get organized and determine your priority tasks. Look at your scheduled activities and list the "to do's" for that day before you check your inbox or listen to your voicemail. Only after you have completed this step should you check emails and phone messages.
Keep in mind that every single email you receive is a call to action – someone wanting you to do something. Once you realize this and take notational control of the times you check you email, you will get a lot more of your to-do's done!
Make time for yourself and your family
Whether you work 9-5, part time or at night, or on the weekends, the beauty of being an entrepreneur is that you are directly in charge of the hours that you work. This means less missed dance recitals and probably longer weekends with the kiddos. Your clients will take priority from time to time but it is up to you to control the hours that you work.
It is also critical to make sure that you schedule in YOU time. This means time where you can do exactly and only what YOU want to do. This might mean an entire evening soaking in a bubble bath, a date with yourself visiting a museum or art gallery.
This is not a selfish act but instead will add to your power as a mom and as a business owner. We all need time to defrag.. A time to nurture our soul, do something just for us, so to speak. The Artists Way calls this concept making a date with yourself. I am a strong believer in this practice. I will admit that at first it seemed very strange, but every time I have a date with myself, something unique happens and I learn more about myself and see my life more clearly.
The more disciplined you are at "umbrelling each day" with a clear intention, the more success and the more free time you will enjoy in your life and your family.
If you want to learn more ways to create more success and better work life balance, for a limited time you can order a FREE copy of my best selling book here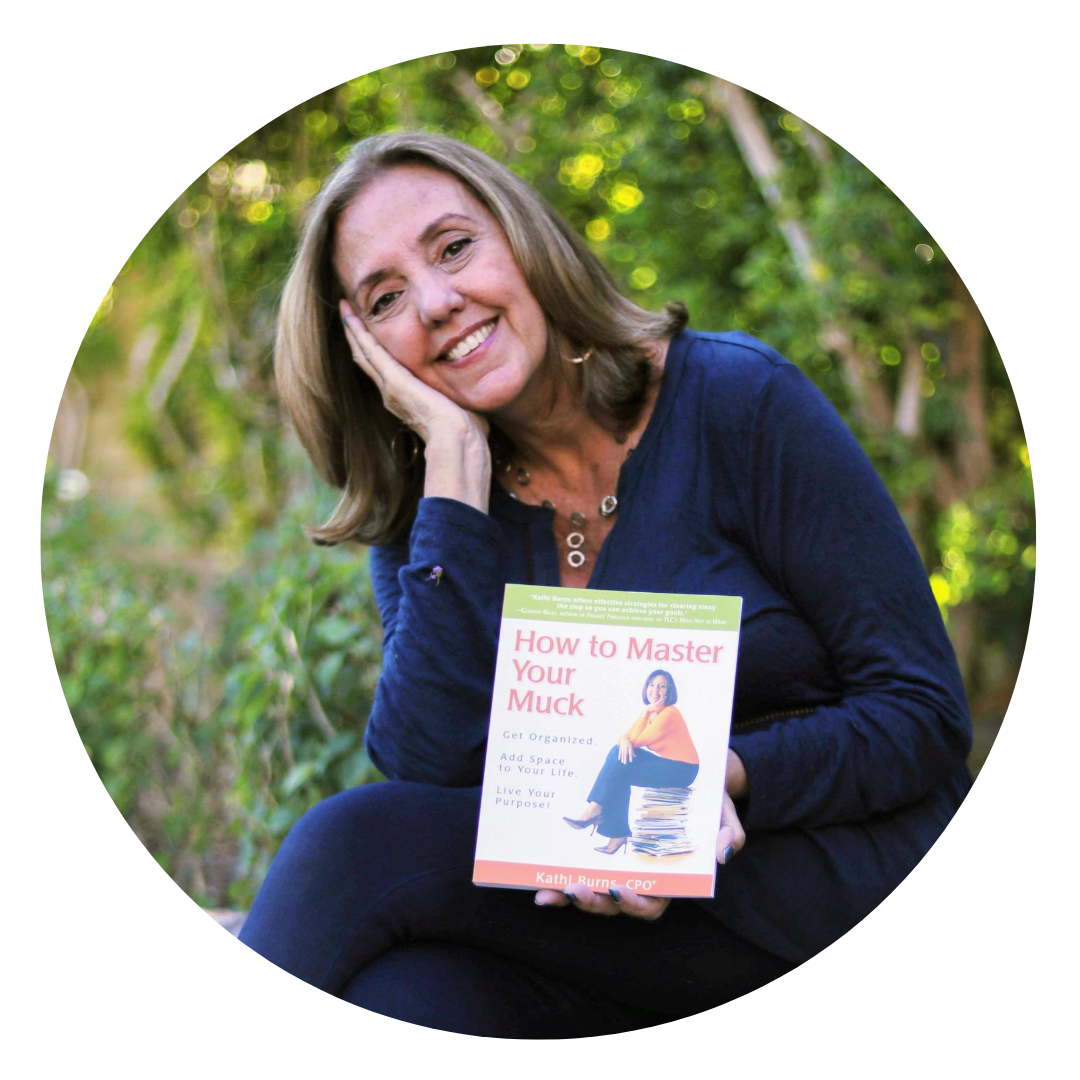 Kathi Burns
Would like to feel more organized? If so, Kathi is here to help you.
Kathi's expert advice has been featured in national media outlets including Oprah Magazine, Martha Stewart Living and Better Homes and Gardens, Entrepreneur Magazine, and more.
As the author of 2 books, Kathi has also developed several online courses to help clients get better organized and energized in all areas of their home, life, and business.