Right now many of us, are working in a home office. Some of you are doing well and others, not so much . . . Clutter is always a distraction when working from home.
During this new paradigm of remote workspaces I think the reason that some people are doing well working remotely is that they had systems in place prior to this pandemic to support their work efforts.
If you are currently winging it and not getting much done.
Here are 3 super important reasons to de clutter your home workspace:
You will lower your stress level
A recent study from UCLA's Center on Everyday Lives and Families Clutter
has deep-seated effect on women's mood and self-esteem.
You will increase your productivity
Clutter has a profound impact on our brains.
Neuroscientists at Princeton University, Physical clutter in our environment competes for our attention, which negatively affects performance and induces stress.
You will experience improved sleep
A Study from St. Lawrence University suggests clutter and sleep loss are linked.
It doesn't matter whether your new workspace is right now. It could be the spare room, the dining room table or a nook in your kitchen, wherever it is, you will save hours of frustration if you pause and take a little time to clear out anything that does not belong in your workspace.
Getting rid of the clutter in your workspace will help you to be more productive. Keep this in mind to help you now what to clear: clutter = anything in your work zone is anything that is not needed to do your job.
If you are looking at a desk with a bunch of unrelated objects, perfume bottles, sewing needles, kids project, hair ties or other accessories, it is time to get them out of your work zone and take them back to where they belong. The home for random objects is NOT your workspace.
Here are a few more rewards for taking time this week to create a better work area:
When you clear your clutter, you have more space.
When you have more space, you have greater clarity.
When you have greater clarity, you get more done in less time.
When you get more done in less time, you have more freedom.
This makes clearing your clutter  a win win!
If you need help and want a step by step guide to get your home and workspace completely organized, enroll in my Home Organizing Made System Online course for only $19.95. Check it out here:
Here is what one my clients wrote after getting her home office organized
"I was sitting at our kitchen table, with my computer and a small handful of files in a carry bag that were necessary for the project I was working on. Within 30 feet was my office door but I would not go in and work there. Literally, I had moved myself out of my office with all the "muck" I had accumulated over the past 8 years. I thought back to all the things that had moved in, filling up that space. Four home based businesses, two books, no less than three manuscripts that were sitting in a file untouched, the estate management files necessary for conducting business for my mother-in-law (with Alzheimer's), one corporation, and of course, within this tidy mess were our personal files for the house and the running of it!
I was sick and saddened with the idea that I didn't want to go in there to work.
After clearing my clutter, I am now at least 200 pounds (or more) lighter in my office and at least 1000 pounds lighter in my heart and mind. My creative juices are flowing and I am in business, doing what I have wanted to do all my life…write!! Thank you Kathi, for your ability to create space…not just in my office but in my heart too! God bless you!!!"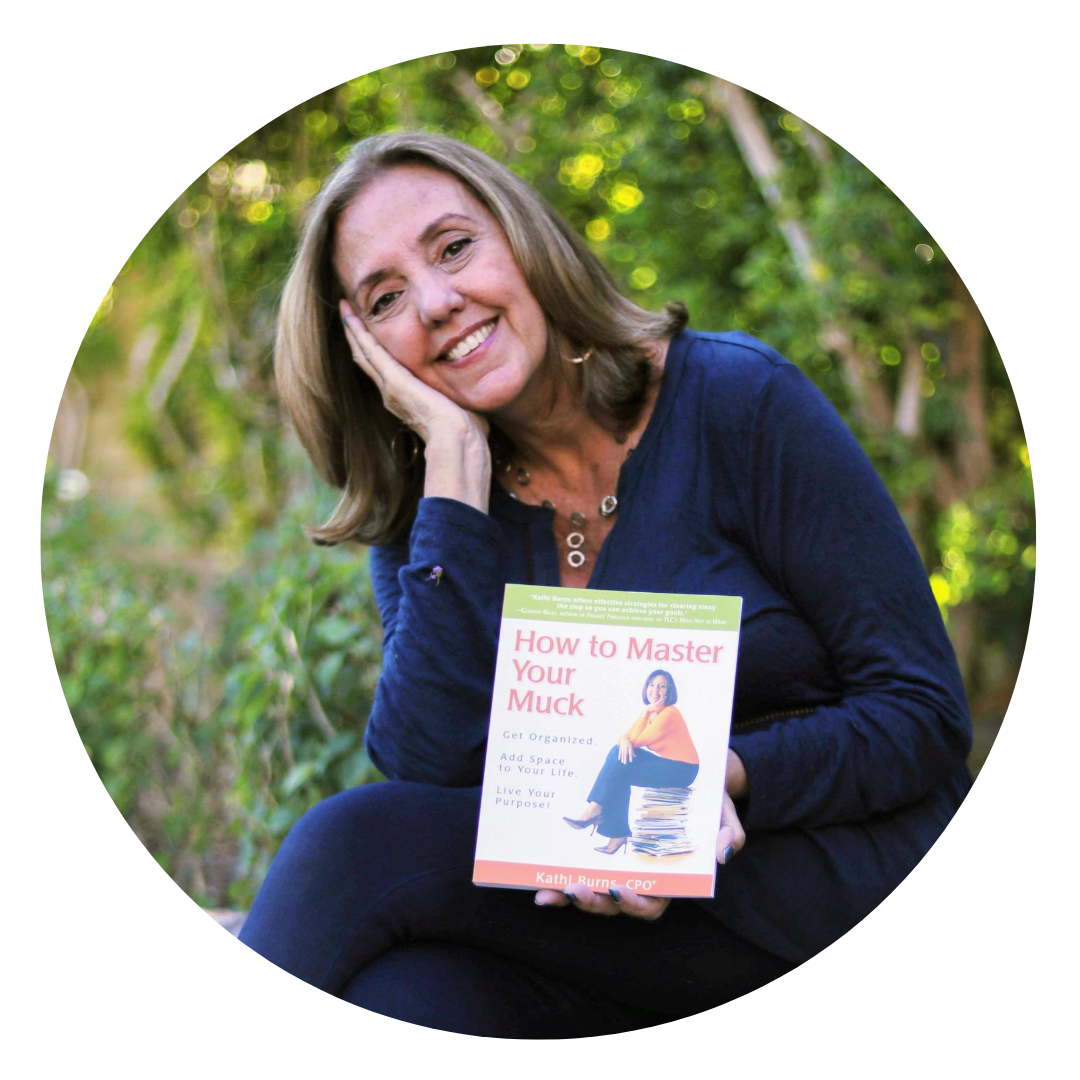 Kathi Burns
Would like to feel more organized? If so, Kathi is here to help you.
Kathi's expert advice has been featured in national media outlets including Oprah Magazine, Martha Stewart Living and Better Homes and Gardens, Entrepreneur Magazine, and more.
As the author of 2 books, Kathi has also developed several online courses to help clients get better organized and energized in all areas of their home, life, and business.