Many of us experience the need to downsize or help others downsize. The tips below will help you become a downsizing master!
They say you teach what you need most to learn. As I filmed this television show you will see below, I realized that I was in the thick of downsizing projects.
During this particular trip to Florida, both my brother and father were in the midst of downsizing and I was able to help.
Here are your 8 tips:
1. Purge your home and life a little every day
Every time you open a drawer or closet door and look inside, ask yourself what is there that you no longer use. Keep in mind that you probably only use 20% of the items that you own and are storing. Purging and releasing items as you encounter them makes downsizing less of a monumental task. It also moves your good out into the world!
2. Start early before you have to move so you can work at your own pace
Working at your own pace is less stressful. Preparing for a move, even though you may stay in your home for as long as you wish, makes letting go and moving on easier — for you and your family. Ask family members for help. Those who live distances away can help you during holiday time, special celebrations or visits.
3. Determine in advance how much space you will have for memory items.
Gather them into one area to see how much you have collected over the years. When items are scattered throughout the house, it is more difficult to sort and purge.
Set up a table and a lamp to spread out your items as you begin to sort. Sorting into large flat box lids will help you keep track of what you are sorting. Use large thick contractor garbage bags for donations and garbage. You can hang them off the back of a chair or hang them off the door of your oven or dishwasher by shutting the door on one side.
For children's artwork and keepsakes, sort and set a deadline for each child to claim and remove their memories.
Schedule a time for donation truck to pick up whatever is not taken. This will ensure that everyone knows it is a firm deadline.
4. Contain and downsize rarely used items like holiday decor and entertaining platters
Your new home might not accommodate a full size tree. Think ahead and keep your smaller more precious decor items.
5. Store with style and keep smaller sizes in mind
Think small and once you have your collection widdled down to a minimum, reward yourself with attractive storage containers. Create or buy attractive storage containers suited for your specific items, whether it is CD's, candles or your sun glass collection. Make sure you have enough space to hold all 'like' items together. When items become separated from their pack, you lose track of how many you own and will tend to buy duplicates and become cluttered with unnecessary excess.
6. Set up a permanent donation box in your home for unwanted items
You will soon develop the automatic habit of releasing old and unwanted items on a regular basis. As the "donate box" becomes a permanent part of your life, you will happily and easily clear at least one box of old possessions every month!
7. Assess each storage space every time you open the door or drawer
Do a quick scan to check if there is anything inside that you have not used for the past 6 months or a year. If you are downsizing, ask yourself if you will need it in your new smaller home. If not, let it go now.
8. Optimize your storage space by creating separate zones to contain each type of item within
Contain collections of 'like' items in plastic bins. This will make it easy to keep each category of items under control so they don't grow beyond your storage area. It also will make it easier to pack, move and unpack. Use baskets to serve as quick and easy drawers in deep spaces. Use pre-made plastic drawer bins for instant cabinets within cabinets.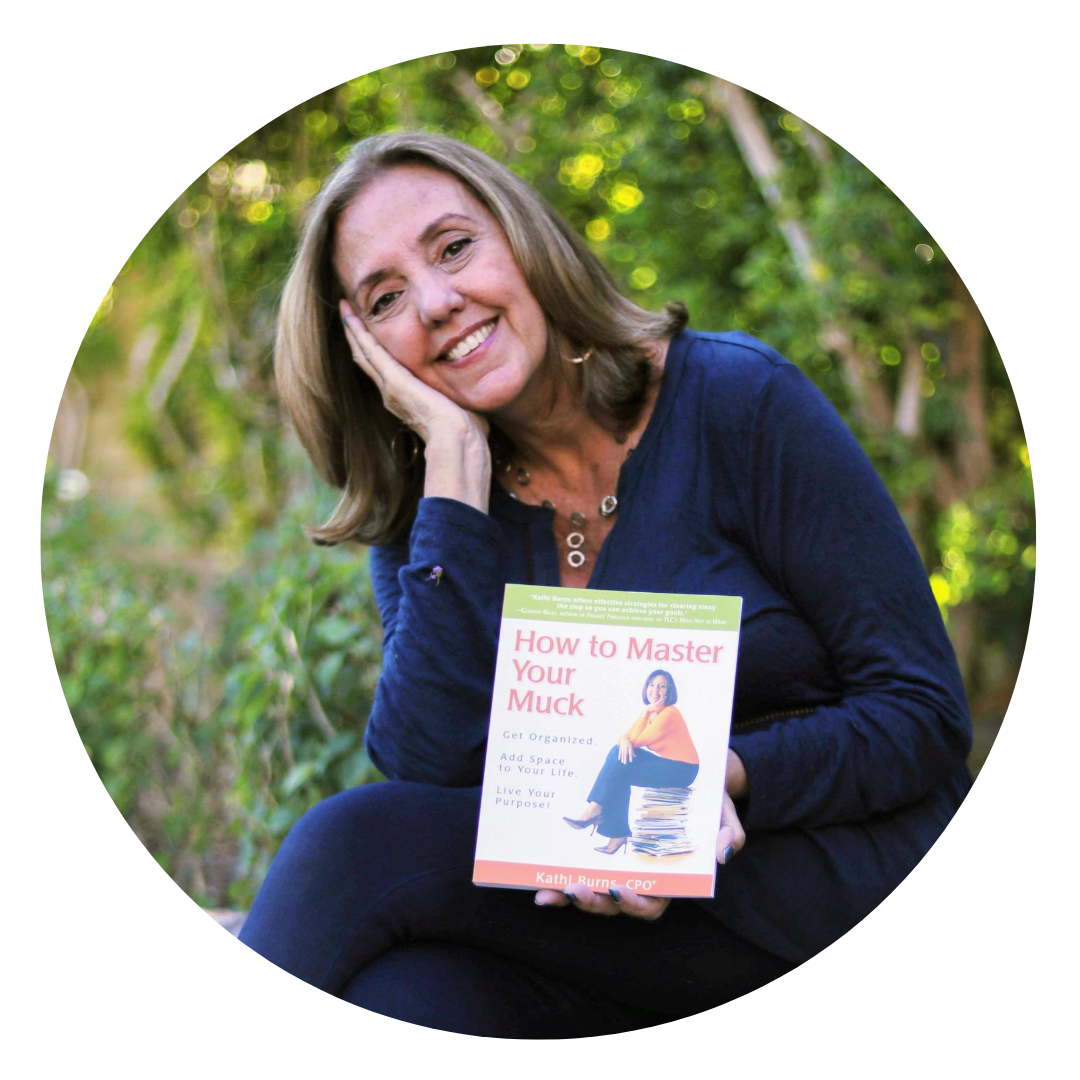 Kathi Burns
Would like to feel more organized? If so, Kathi is here to help you.
Kathi's expert advice has been featured in national media outlets including Oprah Magazine, Martha Stewart Living and Better Homes and Gardens, Entrepreneur Magazine, and more.
As the author of 2 books, Kathi has also developed several online courses to help clients get better organized and energized in all areas of their home, life, and business.