Did You Know?
Once you become a homeowner, you will likely have at least 300,000 possessions CROWDING YOU OUT of your life? A study by the LA Times cited that there are 300,000 items in the average American home. You are probably exceptional and that means you might have even more. Even if you FEEL LIKE you own less than 300,000 items, I'll bet you still feel a bit overwhelmed by all of the stuff that you have stuffed and crammed into your life. Just LOOK around you and count how many items you can see, even before you open up your closets and drawers. How do you FEEL  NOW? 
Did You Know?
The average American woman owns over 30 outfits—one for every day of the month + a few extras. A study by Forbes states In 1930, that figure was nine. Only nine outfits! You might even have more than 30.  If you are like most of my past clients, you have even more misfits, clothing pieces that never did find a mate or a place to wear them. The lonely soldiers, the mistake purchases. YOU KNOW what I am talking about. 
Did You Know?
According to NPR, the average size of the American home has nearly tripled in size over the past 50 years? The vast majority of people I encounter say that they want to simplify and downsize their life. This common trend makes sense and now YOU UNDERSTAND why. Ironically we now have the SMALL HOUSE MOVEMENT taking over our television channels. It seems that OUR millennials are now rebelling against our long-time habits of consumption. They are trading possessions for experiences. I have heard clients say countless times that they want to spend their money on living and they are craving experiences, not possessions. They know all too well after living with their parents that possessions can possess them and they say NO. 
Did You Know?
The Daily Mail Study showed that women will spend more than eight years of their lives shopping. This means that 90% of women over age of 45 have probably spent over 6 years of their life shopping? If you, like most of us, shop to receive stress, you  might want to think again. While the act os shopping can bring about a quick boost of happiness, accumulating possessions will actually increase and heighten your stress level.
Did You Know?
Boomers consume twice as many material goods today as we did 50 years ago (The Story of Stuff). Advertising and mass media drive us to want more, to BUY MORE, to need more. The latest phone, the best tv, the newest kitchen gizmo . . . We are blasted with promises and solutions to problems we haven't even considered (if we are lucky) EVERY DAY.
Did You Know?
That you waste countless hours looking for, and never finding, what you know that you own but cannot find? Studies show that over the course of our lifetime, we will spend a total of 3,680 HOURS or 153 DAYS searching for misplaced items. Studies show that we lose up to nine items every day—or 198,743 objects in a lifetime. Phones, keys, sunglasses, and paperwork top the list (The Daily Mail). And TIME is not the only thing we lose. We also lose money buying duplicate items that we already paid for and have stashed somewhere . . .
Did You Know?
All of this consumption and becoming consumed by your possessions is reversible and that you can have more free time than you know what to do with, once your possessions sabotage your life, your home and your time? There are specific ways that you can slim down your life and speed up your way to freedom. This means that there is a formula to begin creating a greater sense of peace and get that zen feeling back into your life?
This is not fantasy talk. This does not include giving all of your possessions away or becoming a monk living in a monastery. And this works for everyone, female, male 25, 35, 45, 55, 65. You name it, the strategy is exactly the same.
My years as a Board Certified Professional Organizer has allowed me to peer into the secret routines and training of some of the foremost organizing experts. Over the years I have picked up tips, tricks, and strategies that have allowed me to literally reverse the habits of over-consumption. This means that my clients are able to experience a greater sense of renewed energy and freedom.
If you want to learn the exact tactics I use with my clients and feel like your clutter and your life is more under control, you probably want to click to go to this next page.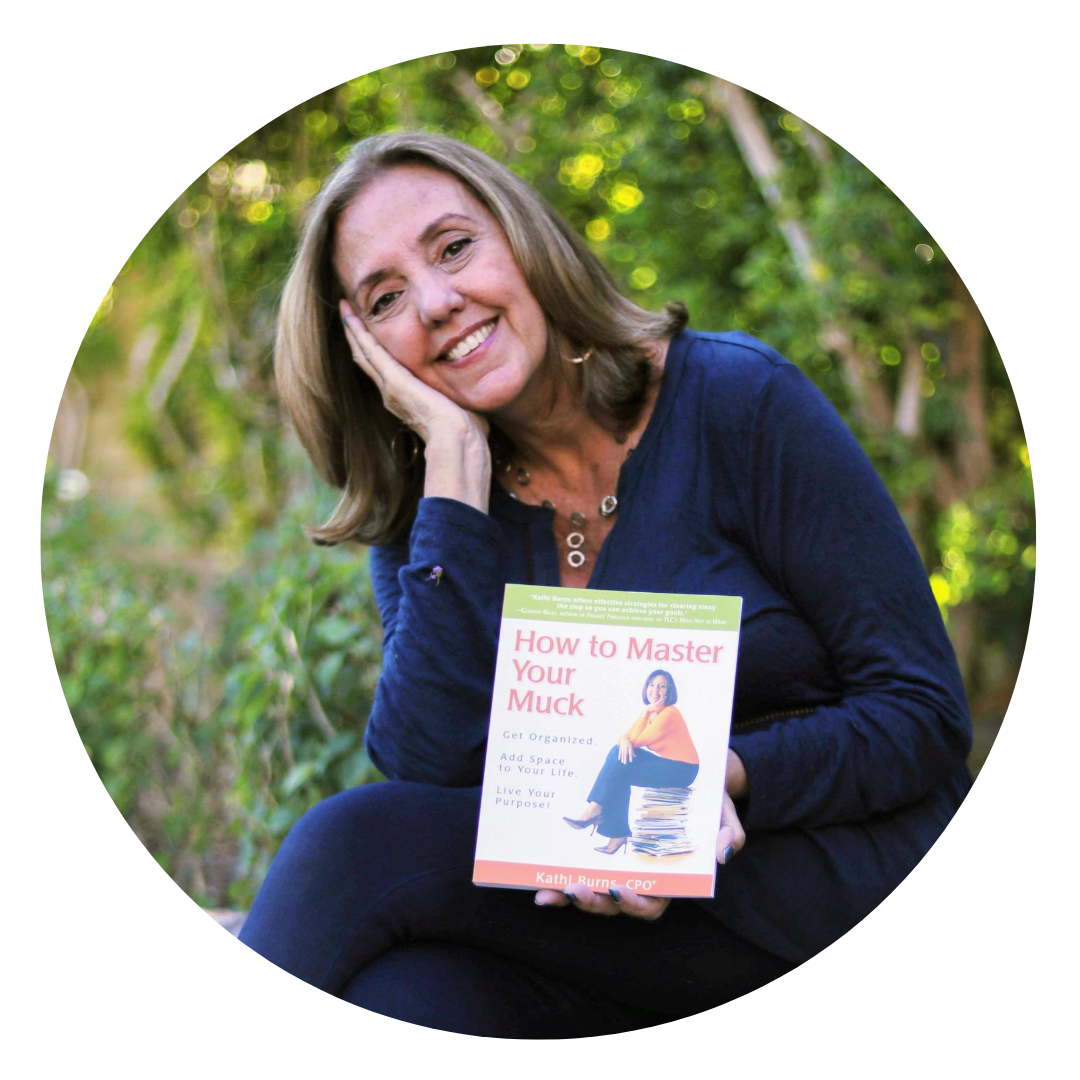 Kathi Burns
Would like to feel more organized? If so, Kathi is here to help you.
Kathi's expert advice has been featured in national media outlets including Oprah Magazine, Martha Stewart Living and Better Homes and Gardens, Entrepreneur Magazine, and more.
As the author of 2 books, Kathi has also developed several online courses to help clients get better organized and energized in all areas of their home, life, and business.