Recently I talked about multi-purpose rooms and I would be remiss if I did not talk about how to easily transform your garage into a usable indoor space.
With this sequester still in full force, and kids not going back to school this fall, at least here is Cali, I know that having additional space for your family to spread out is invaluable so let's talk about a few repurposing ideas for your garage.
Over the years I have personally helped transform client garages into playrooms, dance studios, recording studios, photography dark rooms, home offices, art studios and more. There are so many things your garage can be used for. It is exciting to think of the endless possibilities!
Before I was a professional organizer, I launched a travel writing/publishing agency in Florida. I started that company in our spare bedroom. When I expanded, we needed more room for another employee so the garage was the best solution. Since we owned our home, we decided to really go for it and do a complete garage to home conversion. We took out the garage door and installed a wall with a gorgeous large window. Carpet, drywall and paint followed and  it turned into a really nice place to grow our business!
Obviously – that transformation was a permanent commitment but it served us for years and because we added a closet during the build, when we sold the house, it listed as a 4 bedroom instead of a 3 bedroom home.
As you can see – the options are limitless but just in case you don't want to go that far, here are are more tips to turn your garage into a usable room.
A playroom is only one of the many things that you can create when you repurpose your garage. You might also consider turning this area into a family rec room or a study space if your kids are a bit older and need a quiet place to use for their virtual classroom.
If your kids are younger a playroom is the perfect option, especially if you have another garage in your home or you never use your garage to park your cars.
As you take care of all of the other details of your garage conversion, remember that kids are, as a rule, curious, and they're going to push any button they can reach. So make sure to disconnect the garage door opener and that its wall button and/or remote are out of reach.
You can find really cool puzzle floor mats that are durable, colorful, and a lot softer than concrete. Grab a few of these and put them together in a configuration that makes sense for the area your kids will be using.
If you have kids that need to go back to school without a school to go to, this conversion probably makes the most sense right now!
The biggest requirement for a virtual classroom is to make sure your wifi signal is optimal. If it is sketchy, you can always buy a booster, a new router or even consider upping your speed with your current internet provider. 
We just did that and it makes a huge difference. If you have not checked into it lately, make a call or go online and see what new technology is available to wifi in your area.
The next consideration is a desk or a comfy chair if your teen lounges instead of sitting at a desk when studying. The large bean bag chairs can double as both chairs and loungers. You might want to hang a large tv or computer monitor and additional chairs so you can multi-purpose this space as a movie night room from time to time.
Good lighting for zoom calls and reading also is a big consideration as well as extension cords with power surge protectors. If your garage has a washer and dryer, ample electricity should not be a problem. If not, check to see how much power you can use with your current wiring system.
Affordable Storage Solutions
Shelving and storage is critical for every garage, regardless of its purpose. Regardless of what you plan to do within your new 'garage room' make sure to add as much storage as you can.
Lining one wall with floor to ceiling wall to wall cabinets will prove to be a solid solution for any type of conversion. After all, the garage will still need to store seasonal decor, party platters and memory boxes – right?
Kids also tend to throw their toys everywhere, but if there's a place for everything, then everything is more likely to go in its place. IKEA has a lot of really great kids' storage bins, shelves, and other items that make cleanup easy and fast. You can use the bottom shelves of your wall to wall built in's for their items.
When turning your garage into a 'room' as such, your flooring choice makes a huge impact. Basic concrete doesn't exactly scream comfort and luxury, especially if it has oil stains all over the place.
I always recommend pouring stone epoxy flooring directly over your concrete a laying a nice area rug on top. This way you won't have to rip out padding and carpeting later if you ever want, or need, your garage back.
Most garage walls are made of unfinished drywall. Even if your walls are painted, they may not have the same texture as the rest of your home. Finish off the walls with texture and a fresh coat of paint so it feels more like a part of your house. Make sure to avoid dark colors on the walls so that your man cave will not turn into a man dungeon! Stick with light, neutral colors that you can accent with other design features.
Below is a case study that I made a few years back when we converted a garage into a temporary playroom/study area for a client.
This garage was used for watching tv, working on crafts, and an extra playroom. At the same time, it had to be used to store the usual garage items including holiday decor, extra entertaining supplies, etc.
In the beginning there was no storage in this garage, only some assorted furniture, TV and a desk. As with many garage conversions, this space had to accommodate many different types of activities and serve as a comfortable retreat /playroom for the two boys and a space for mom and sons to create craft projects and read.
My client had wall-to-wall cabinets installed along the longest side of the garage without windows. The cabinets made it possible to create order with the deep freeze storage items like holiday decor and also made a place for sporting equipment and extra entertaining items to live while not in use. I shifted furniture around to create zones for each type of activity. The desk was moved to the back wall so that all craft supplies were in the same zone with small table and chairs positioned for action.
The lateral file cabinet was moved next to the door into the house as this contained the permanent family records.
The large cube shelf was moved behind the couch to create division between storage and TV zone. All extra toys were grouped together 'like with like' and stored in baskets behind the couch. As the boys decided to play with different activities, they brought out one basket at a time and learned to put the first one away between activities to keep chaos at bay.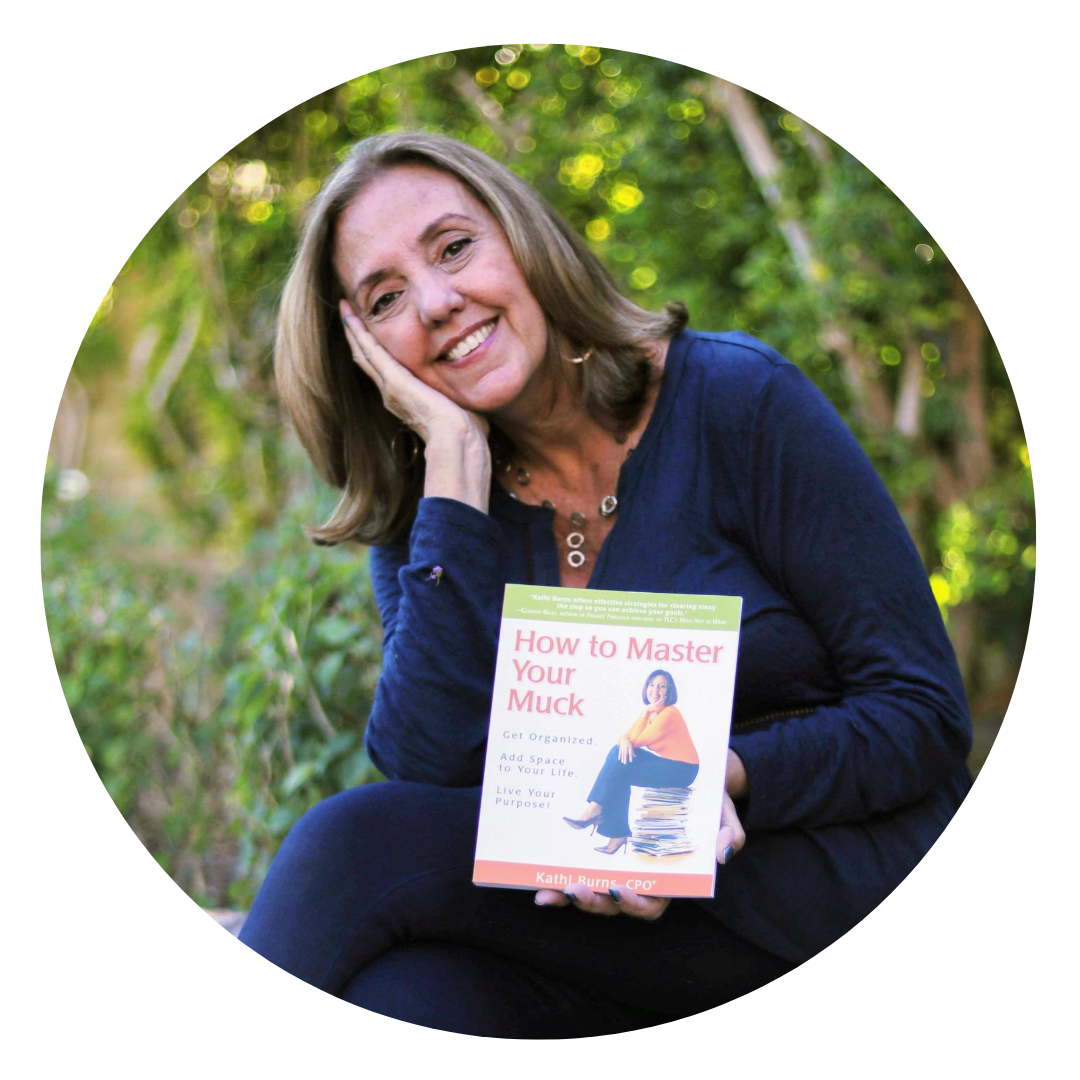 Kathi Burns
Would like to feel more organized? If so, Kathi is here to help you.
Kathi's expert advice has been featured in national media outlets including Oprah Magazine, Martha Stewart Living and Better Homes and Gardens, Entrepreneur Magazine, and more.
As the author of 2 books, Kathi has also developed several online courses to help clients get better organized and energized in all areas of their home, life, and business.