Do you have a hodgepodge of keepsakes, collections, mementos and memorabilia gathering dust around your house?  Or even worse – keeping your car out of the garage?
Oftentimes I meet with clients who have ended up with large collections of bric-a-brac and curios that they never intended collecting. It happens when well-wishing gift givers can't figure out what they like or need. another way this happens is that they inherit a bevy of items that have been passed down through the family  tree.
Unintentional Collections
Beagles, Beagles and More Beagles – As an example, one of my clients is the person who has everything and she LOVES beagles. When it is time for her birthday or other celebratory occasions, her friends can't think of anything that she needs.
So when in doubt, her friends buy her beagle related items. Beagle statues, beagle mugs, beagle everything! This is an example of a collection that was unintended but expands regularly every year. And, just so you know, she hates keeping all of that stuff!
Click this link to receive for your FREE training to help you organize your home:
Guilty thoughts – Has something like this ever happened to you or someone else that you know? Oftentimes clients will have all these collections that they didn't ever intend to have and they really never cared about but they don't want to get rid of it because they feel guilty. They feel guilty because someone spent the time to give them the gift Or as I've heard over and over again, "my mother spent years collecting them"
Guilty Thoughts
Gifts – What I tell the gift recipients is that it is the thought that counts and not necessarily the gift. They can let go of the gift if they do not have a purpose or a love for keeping it. It does not diminish the gift itself or the gift giver because it is the thought that counts. So if you have any type of collectible that happened into your life, I now give you permission to let them go!
Items Passed Down  – When it comes to an inherited and memorabilia items you also do not have to feel guilty for not wanting to keep them in your life. Just because they were important to your mom or your grandma or your great-grandma mom does not mean they have to be important to you. the best thing to do in this situation is to pass them along to another family member who might appreciate them or if there was no one in that category go ahead and donate or sell them. I know for a fact after working with hundreds of mom's, grandma's and great-grandma's that the last thing they want is for you to clutter your environment with things that you don't feel are important. All parents want their kids and descendants to be happy, not crowded out of their home with unloved, unused and unnecessary keepsakes.
If you do decide that your collectibles are something that you love and want to keep, then you should honor them by showing them off and showcasing them in your home.
Let's Get Real
Ask Yourself – Get real when you think about this – if you think that you want certain items but you don't want to look at them regularly then you might not really, really want them. Collectibles and bric-a-brac that are relegated to boxes in your garage or attic are not things that you really love. Just saying. . . These items could instead represent things you feel obligated to keep because someone else did. You know what they say – Another person's treasure could be another person's junk!
Collectibles – If your collectibles are ones that you have inherited and you still don't feel that you want to look at them on a regular basis then you might want to consider passing them along to another family member who would enjoy looking at them on a regular basis. You should also consider selling or consigning them and splitting the money between your family members or using it for a well-deserved vacation.
You Can Do This!
Let It Go – There should be no guilt while releasing items that have been collected by other people and not yourself. You don't have to keep things just because someone else spent a lot of time collecting them and loving them. Move that good vibe and energy out into the world for others who might enjoy that collection.
Okay – so I got a bit side tracked. I feel strongly that giving you permission to 'let go' was necessary to help you eliminate the collectibles that no longer have meaning in your life. Also – it is always the thought that counts, not the gift!
Display The Things You Love
Showcase the Good Stuff – If you do have collectibles that you love and cherish and want to show off, then the following tips will help you clear the visual clutter and showcase them as they deserve to be showcased.
When you have limited space, you might want to rotate the items that are displayed in your home. You can create a rotating visual display and store the remaining items while they are not on display.
One of my favorite organizing strategies is to mount a series of skinny ledge shelves up high around the room to showcase whatever you want to display. By the way these ledge shelves work excellent for kid's trophies and ribbons.
Safe Storage – Another idea is to showcase your collectibles in clear Lucite boxes. These boxes are manufactured in a plethora of sizes and shapes and will keep the dust bunnies at bay
Picture Frames – Another idea to consider is to showcase your flat collectibles and momentos into picture frames. I love this strategy because it keeps your collectibles off of your horizontal surfaces and also enables you to use the vertical space inside your home.
Use Your Vertical Space
Shadow boxes will keep your collectibles free from dust and grouped into one visually appealing space. Whatever you choose to do, the bottom line is to use storage containers that are specifically suited for your collectibles.
Another upside to consider is that when you store your beloved items with style, your housemate and/or significant others are more likely to appreciate your collections. Trust me – I see this happen all of the time!
Are You Ready?!?
Are you ready to seriously declutter and feel more organized in your home? Get Your 7 Days to an Organized Life System!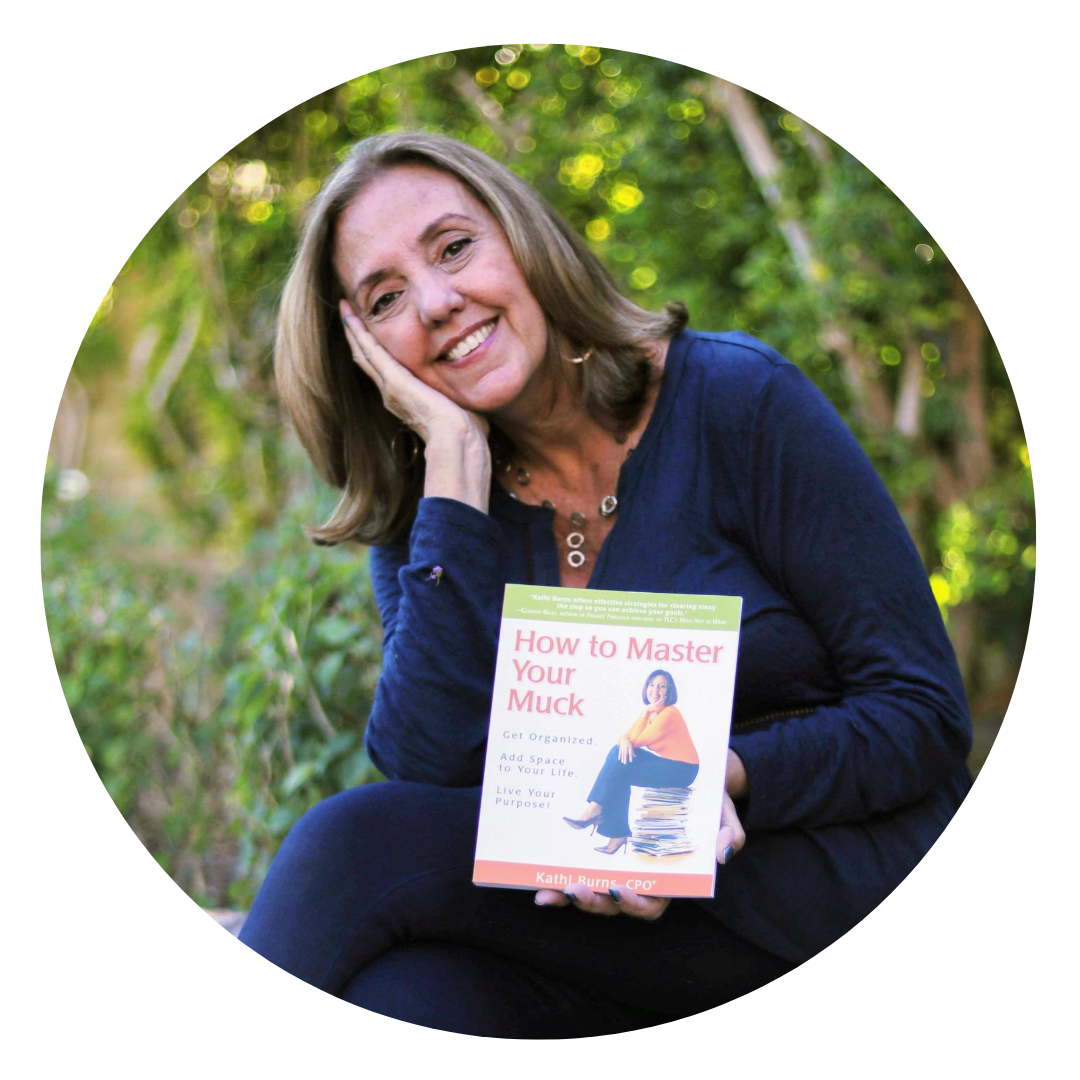 Kathi Burns
Would like to feel more organized? If so, Kathi is here to help you.
Kathi's expert advice has been featured in national media outlets including Oprah Magazine, Martha Stewart Living and Better Homes and Gardens, Entrepreneur Magazine, and more.
As the author of 2 books, Kathi has also developed several online courses to help clients get better organized and energized in all areas of their home, life, and business.